When I think of soccer video games, I can't help but picture the glorious FIFA series. I remember the very first game released—FIFA International Soccer—available on Sega Genesis, Sega CD, SNES, and other consoles in 1993. Every year since then, brand-new FIFA titles have sold extremely well. Practically every new version of the game features upgraded graphics, updated rosters, and modified game modes. Today, full-featured FIFA games are available on iOS and Android, with stunning visuals and smooth animations that utilize modern mobile technology. But are hyper-realistic sports games the most entertaining? I don't think so.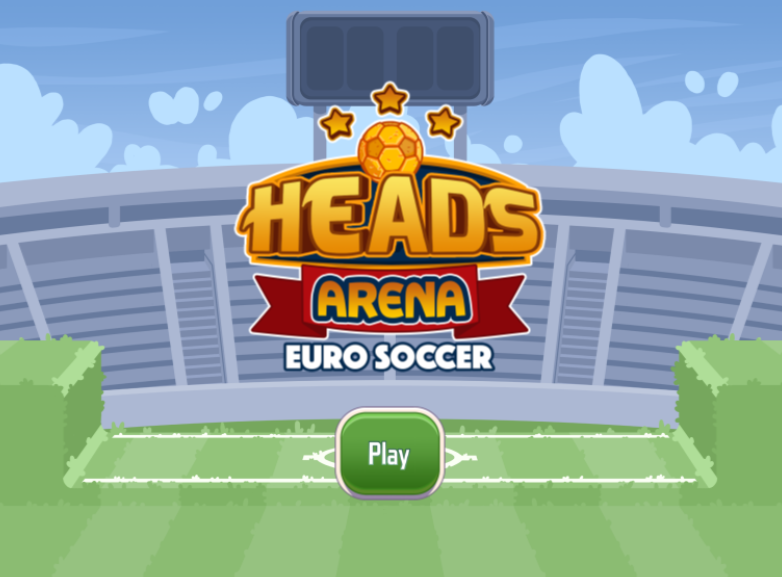 Heads Arena: Euro Soccer is an arcade-style sports game. It features fast, fun, and free action. Available from Poki, Heads Arena: Euro Soccer plays well on any iOS or Android device. It also allows keyboard controls for an enjoyable big-screen experience on a laptop or desktop computer. The cartoonish sports title features big-headed superstars that are reminiscent of athletes from the hilariously great NBA Jam series. But, graphics and humor aren't the only aspects the two titles share.
Heads Arena: Euro Soccer features 1-on-1 and 2-on-2 action. There is no dedicated goalkeeper, nor are there designated forwards, midfielders, and defenders. In this arcade sports game, each player covers every position. To support small squads, the field is much smaller than a regular soccer pitch. When playing a solo match, the gameplay feels a bit like soccer-themed pong or air hockey. In two-player team matches, I am reminded of volleyball (minus the center net). The tiny field perfectly accommodates one- and two-player teams. Every second of the game is filled with action, because the ball is always nearby. Even when a player stands right in front of their own goal, they are still a scoring threat. It's possible to both defend and score from any side of the field.
The rosters in Heads Arena: Euro Soccer are miniscule, when compared to the latest FIFA titles. There are only two different athletes on each of the 12 teams. But, that really is all that's necessary. Each player has a unique look, either featuring a funny facial expression, wild hairstyle, or both. All players seem to have the same set of skills. They move the same way, at the same speed. Some gamers might view this as a negative factor, because choosing a team can't be based on attribute levels. For an arcade game, it's great to not be bogged down with figuring out perfect matchups and roster assignments. Simplicity leads to spending less time in menus and more time in the game.
For easy arcade fun from any location, Heads Arena: Euro Soccer is a solid choice. It has a dozen European teams, complete with festive uniforms and funny players. Each match has 45-second halves, making every game short and sweet. If there is a tie at the end of 90 seconds, Golden Goal rules will apply. Take a break from the exhausting simulation modes of other soccer titles, and enjoy the nonstop entertainment in Heads Arena: Euro Soccer.