Avalanche Studios' Just Cause series has become one of the most iconic franchises in the video game industry since the first game was released in 2009. Over the course of the past 13 years, Just Cause has grown into a sprawling sandbox destruction simulator with some of the most realistic physics and effects available in a game. Like any series that runs this long, Just Cause has had its share of misfires and failures, but the series' highs are genuinely breathtaking. Just Cause's main protagonist, the dashing Rico Rodriguez, serves as a suitable Antonia Banderas-esque action hero while also endearing himself to fans with his charm and wit. Nobody knows how long it will be till we get another adventure with Rico, as there hasn't been any news of a Just Cause 5 entering development, so we can take this time to take a look back at the best Just Cause games currently available in The Just Cause Series: Ranked. When you're ready to pull off some crazy stunts and trigger a chain reaction of explosions, pick up your wingsuit and rocket launcher, and let's get started!
Just Cause 3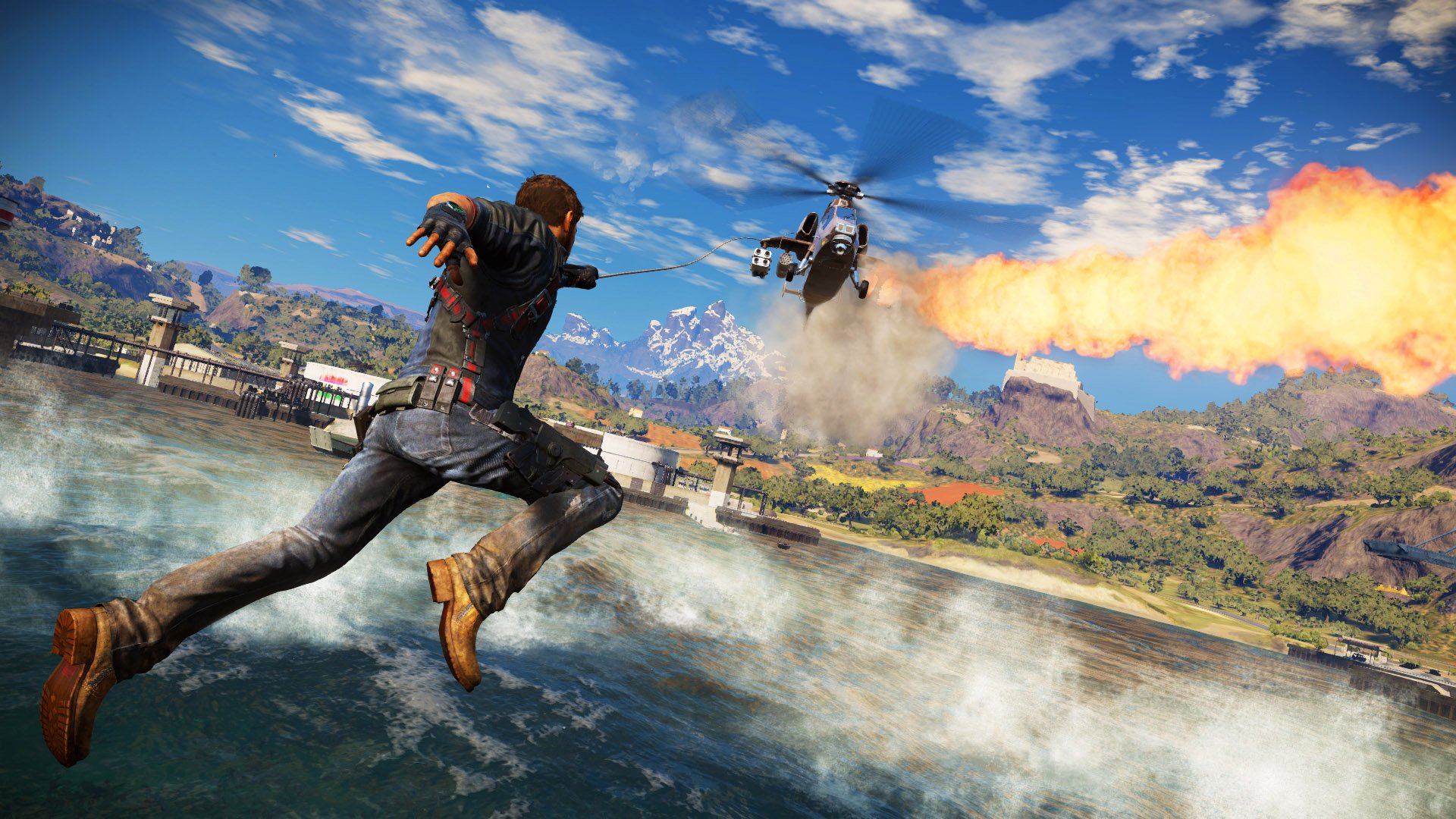 The best game in the series by far would have to be Just Cause 3. Released in 2015, this game once again stars Rico Rodriguez but is this time set in a beautiful location with distinct meaning to our hero: his homeland of Medici. This Mediterranean island country has incredible vistas, helpful citizens, and, just like every other Just Cause game, a spiteful dictator in charge. The first two games had Rico stepping in to help other island nations overcome their dictatorship, but in Just Cause 3, Rico's battle is a personal one, and that gives a lot of weight to the game's story campaign. Just Cause 3 also introduces a few excellent additions to the Just Cause gameplay formula, namely the fantastic wingsuit. Once obtained, Rico can use the wingsuit to fly around Medici almost indefinitely by using the grappling hook to gain momentum and lift. Just Cause 3 also had incredible DLC released for it that added missions and new equipment, including a jet-powered wingsuit, and gun that calls down lightning strikes, and a speedboat with powerful weapons strapped to it. There were also new areas to explore introduced in the DLC, and once the equipment was obtained, it could be used freely throughout the rest of the game's world.
Just Cause 2

This 2010 sequel takes Rico Rodriguez to the Southeast Asian island nation of Panau to overthrow dictator Pandak "Baby" Panay, and find out why his friend Tom Sheldon disappeared from the Agency and relocated to the same island. Just Cause 2 made a number of improvements over its predecessor. Among them is expanded use of the grappling hook that was introduced in the first game. Instead of being tied to a weapon you needed to equip through your inventory, you are now able to use the grappling hook by pressing a single button. With it being so readily available, it is now possible to grapple more than just vehicles. You can use the new tether system to attach escaping vehicles to the ground, enemies to walls or each other, and explosives to structures you're looking to demolish. This new grappling hook system allowed for much more creativity and made the game more fun to play. Just Cause 2 also introduced the Chaos System, in which players had to complete missions and destroy government bases to build up points in order to progress through the story.
Just Cause 4

The latest game, Just Cause 4, was released in 2018. This title takes place in the ecologically diverse nation of Solis, located in South America. This game makes a drastic narrative change from previous Just Cause games, as there is no dictator to overthrow. Instead, the game's main antagonist is The Black Hand, the private military organization used by various dictators throughout the series. Rico travels to Solis to take them down at their base of operations. The game's narrative also adds personal stakes when Rico discovers his father was involved with The Black Hand, having been working on a weapon for them. Just Cause 4 leverages the power of Avalanche's Apex Engine to create realistic weather conditions that alter gameplay heavily, including tornadoes, blizzards, and sandstorms depending on where the player is located. These weather effects are very impressive, but they unfortunately led to the game's downfall. Just Cause 4 is marred by an array of bugs and technical issues stemming from its over ambitiousness. Other games in the series, namely Just Cause 3, also suffer from technical problems, but those unfortunately don't seem to have been fixed before changing the game's engine and adding even more craziness on top of the destruction the series is known for.
Just Cause 1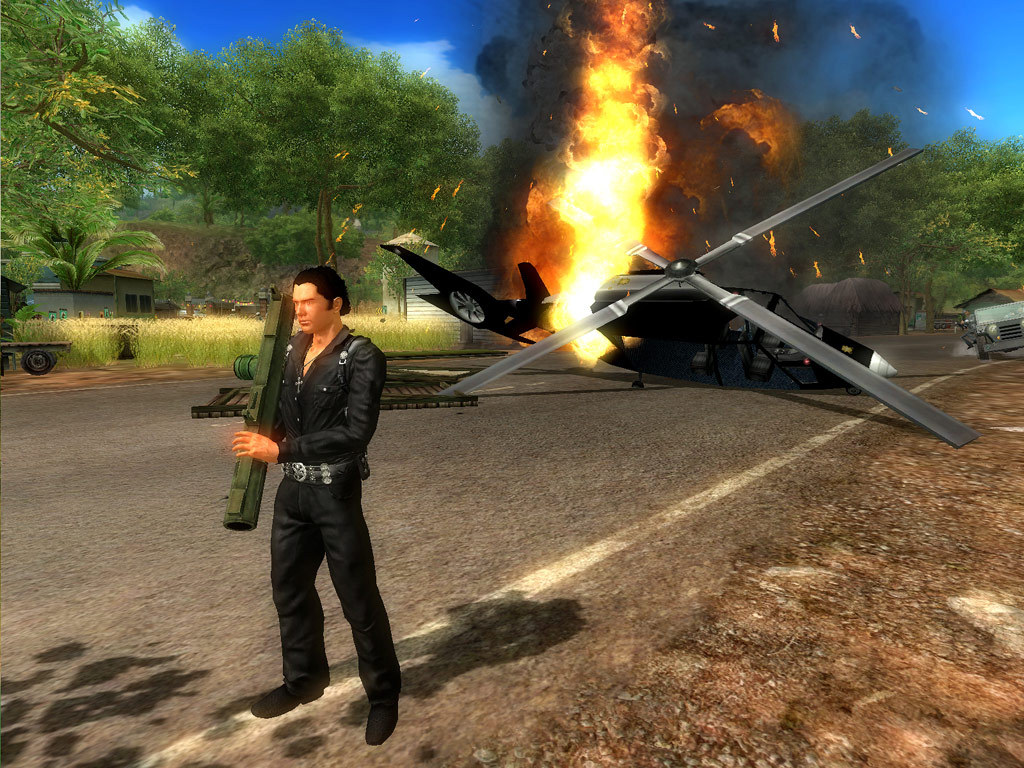 This is the game that started it all. In 2006's Just Cause, we were first introduced to Rico Rodriguez and the fictional organization he works for, called the Agency. After a quick briefing and introduction to Rico's mentor and handler Tom Sheldon, players are dropped into San Esperito, a Caribbean island that is being ruled by a vicious dictator named Salvador Mendoza. This villain is suspected of having WMDs under his control, which is the impetus for Rico's intervention. The gameplay of Just Cause, while still fun, is pretty basic compared to what the series has become through its sequels. It largely feels like an island-based GTA game, where Rico can traverse the island using a variety of vehicles, take on missions, and cause destruction with a variety of weapons. There is even a "heat" system similar to GTA, where the authorities will hunt you down for causing a ruckus. The most interesting thing Just Cause has is its grappling hook, which players can use to hijack vehicles as well as parasail through the waters surrounding San Esperito. It may not be the best Just Cause, but this first game established a legendary franchise, and is still a ton of fun to play.