When a particular game does what it does so well that it becomes a runaway financial and critical success, pretenders are bound to appear. For every Dark Souls, there's a Lords of the Fallen. For every Sonic the Hedgehog or Super Mario Bros, there's a Bubsy. For every Spider-Man 2, there's a Prototype. Sometimes, these games iterate on and expand on their predecessors to create much better experiences, but sometimes they're just straight rip-offs, content to wallow in their betters' success.
Nowhere is this more true than in the realms of Mario Kart. Since Mario Kart 64, a legion of pretenders has arisen to challenge Nintendo's almighty racer for its throne. Speed Freaks, ModNation Racers, Sonic and Sega All-Stars Racing…the list is endless. Most of these games are actually pretty enjoyable, though; it turns out that when you adopt a successful template and you've got some competent dev talent on your side, you can churn out a pretty good also-ran that people will still enjoy playing.

It is with this prologue in mind that we turn to Nickelodeon Kart Racers, the latest Mario Kart rival. The game's available on Xbox One and PS4, too, so it's not quite a direct competitor, but it is on the Switch, so the battle is very much on. Right out of the gate, NKR boldly proclaims its intent to…well, actually, NKR doesn't seem to want Mario Kart's throne. It's a slightly smaller, less big-budget offering that seems content to sit alongside its big brother, a more child-friendly and less online-inclined racer that wants to be a solid option for adults and kids alike.
This game's two major selling points are thus: it's got a smaller price point on entry than the Nintendo Switch's Mario Kart 8 Deluxe, and it's got the heft of the Nickelodeon Nicktoons roster behind it. Nickelodeon Kart Racers comes to us from Peruvian outfit Bamtang Games, whose previous works include puzzler Kilka and licensed multiplayer beat-'em-up Mighty Morphin Power Rangers: Mega Battle.
The questions, then, become these: is Nickelodeon Kart Racers worth playing if you already have Mario Kart, and does it use its licenses well enough to justify a purchase? Respectively, the answers to those questions are "kind of" and "yup". Frankly speaking, Nintendo's racer is still the unimpeachable king of party kart racers, and no rival has ever seen it dethroned yet. Nickelodeon Kart Racers will join the list of those who have failed to unseat the president, but its cheerful cartoon aesthetic, solid play mechanics and great character roster should still not be sniffed at.
Let's take a step back. Nickelodeon Kart Racers is, believe it or not, a kart racing game with the weight of Nicktoons behind it. It's got three modes: Grand Prix, Free Race, and Time Attack. There's no online multiplayer, but there is couch competitive play, so this is very much a throwback to the days of punching your friends in the shoulder to make sure they didn't take the coveted first-place trophy in Mario Kart 64.
Character-wise, there's a slightly thin 12 to choose from: three from SpongeBob Squarepants, three from Rugrats, two from Hey Arnold! and the four titular reptiles from Teenage Mutant Ninja Turtles, here given their modern visual update rather than resembling the classic Turtles of old. The decision to lean so heavily on the Turtles is a strange one, especially with so many old Nicktoons ripe for the picking, but we'll let it slide.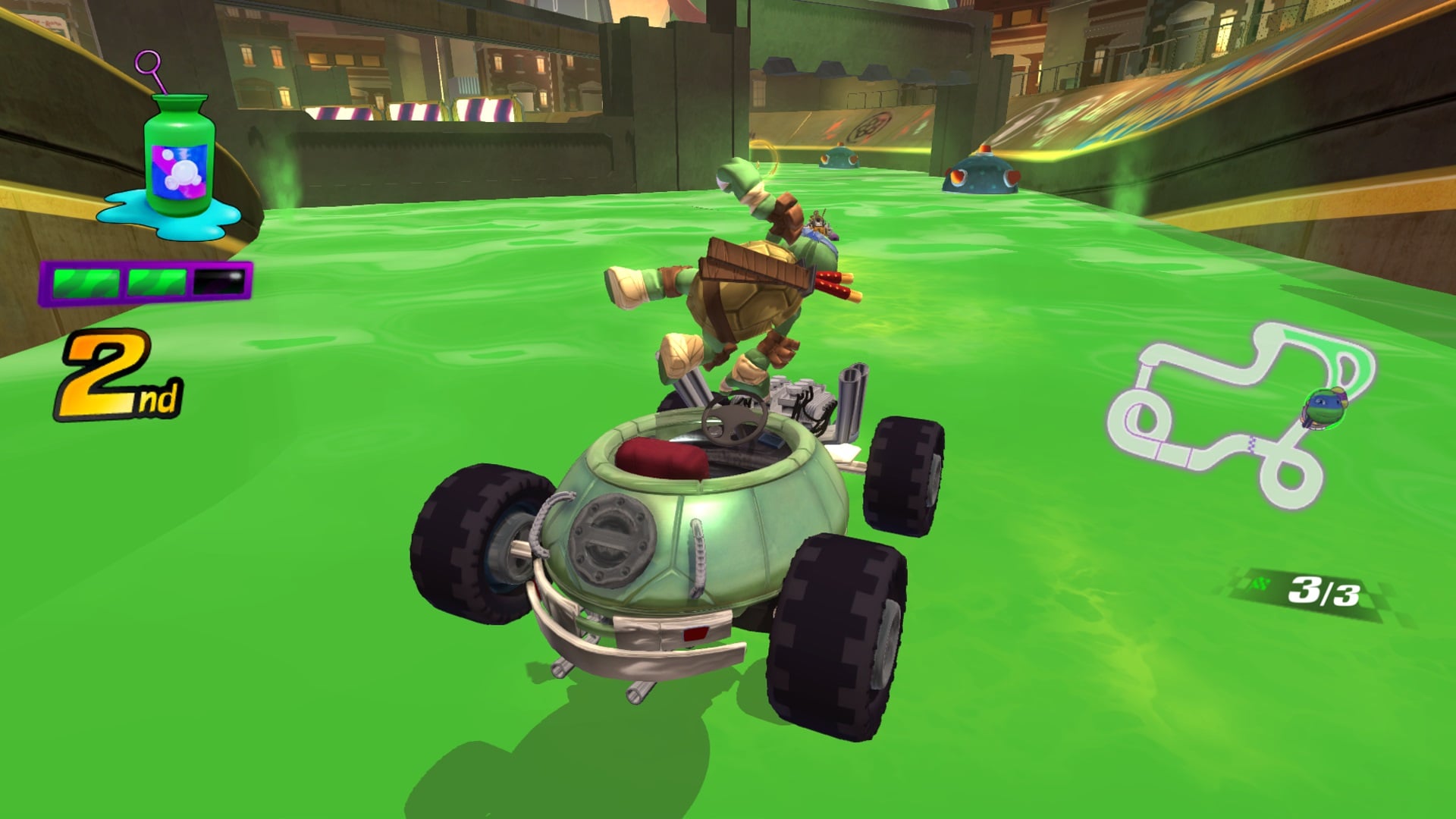 Once you've picked your character, it's onto the track, and NKR impresses with its range and quality of tracks. There are 24 on offer, which is more than we've come to expect from these licensed tie-in games, and each one feels distinct, with its own set of hazards and shortcuts to discover. Figuring out shorter routes and shaving seconds off your time is surprisingly fulfilling; it would have been easy to phone the level design in here, but Bamtang has avoided this pitfall, creating a compelling and interesting set of stages.
Unfortunately, the racing action that takes place on those stages is a little less to write home about. NKR is a fairly average kart racer, lifting many of its mechanics (such as coins that speed players up, random power-ups, and three-lap races) from Mario Kart. Derivative doesn't mean boring, and Nickelodeon Kart Racers is certainly fun in spurts, but there's nothing here to deter you from Mario Kart if you're already a fan.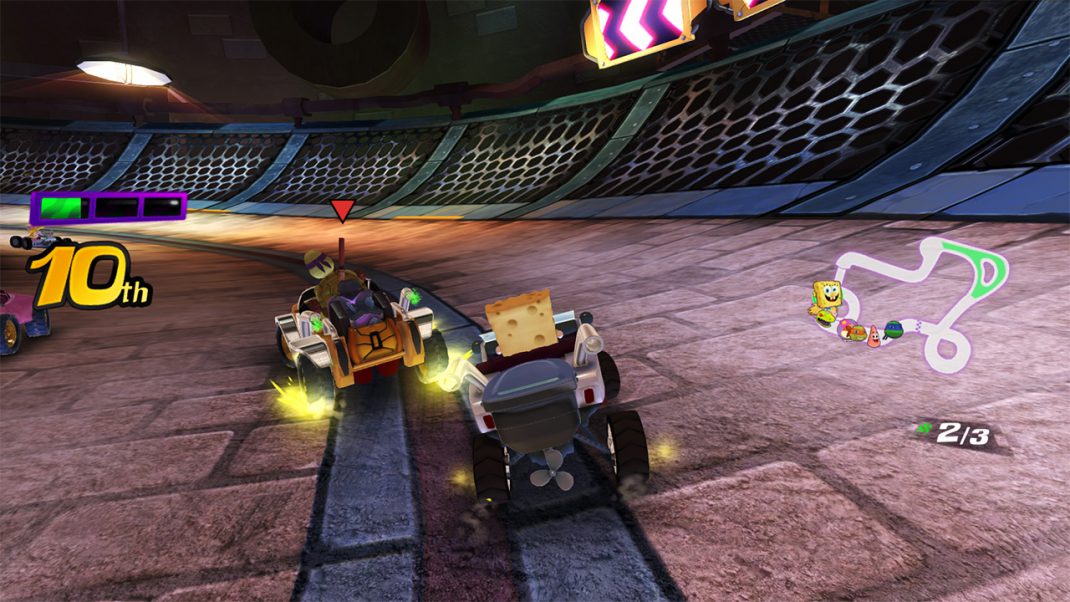 Maybe that's partly because the karts and racers themselves simply don't feel distinct enough. In Mario Kart, it's easy to feel the difference between a hefty racer like Wario or Donkey Kong and a more slight and nimble one like Toadette or the Koopa Troopa. Nickelodeon Kart Racers does purport to have different stats for each of its characters and karts, but that difference just isn't felt on the track enough to provide a replayable or deep experience.
All in all, NKR is an okay game. If you have a Switch and Mario Kart 8 Deluxe, then you have absolutely no reason to play it whatsoever. If you're a PS4 or Xbox One aficionado and you don't have a multiplayer kart racer that you and your kids can play, then your niche is quite specific, but it's adequately filled by Nickelodeon Kart Racers. You deserve better than "adequate", but for now, like the game, it'll have to do.