If you're a PC gamer, then you'll know the importance of a great gaming keyboard. Whether you opt for a mechanical monstrosity or an affordable membrane option, your keyboard is the workhorse of your gaming PC; it's the peripheral you'll likely interact with the most, alongside your mouse. It's a good thing, then, that there are gaming keyboards available for every budget and every persuasion. If you love RGB lighting and can't get enough of the showy stuff, there are keyboards for you, and if you're more of a "just get it done" type, you'll find the market full of options as well. Here are the 10 best gaming keyboards in 2022.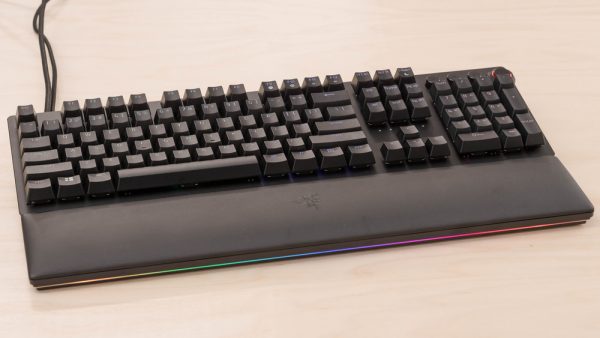 Razer makes the best PC peripherals in the game, period. If you're in the market for something sleek, simple, and yet still somehow incredibly satisfying to use, then the Razer Huntsman V2 is the keyboard for you. It uses proprietary optical switches with a polling rate of up to 8000Hz, so you're not going to experience any delays or issues with key presses as a result of your hardware. Throw in some excellent RGB lighting and an understated profile and the Huntsman V2 really is the best of the best.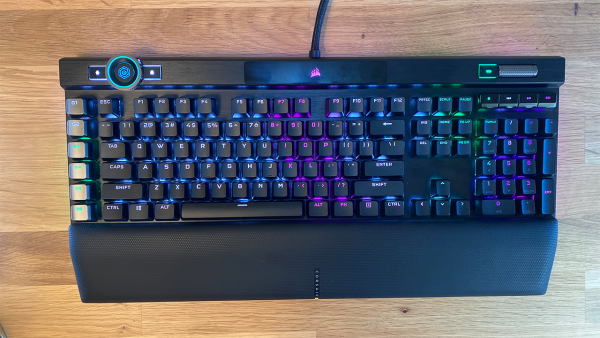 Corsair has a very distinctive style, so if you're not a big fan of the way their keys look, you might not like the K100. However, the keyboard itself is pretty much faultless (as it had better be for the price). Its beautiful per-key lighting, incredibly low latency, and pseudo-corrugated-iron WASD keys lend it a sense of premium quality, and like the Razer option above, it has its own proprietary switches, too. The K100 is going to set you back a fair way, but it's worth the price.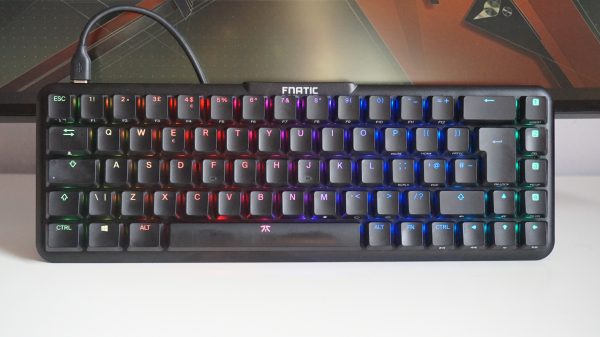 If you're in the market for something altogether lower-profile than the two beasts above, the Fnatic Streak65 keyboard should serve you well. It's an incredibly small, compact keyboard that boasts Fnatic's low-profile switches, reducing the time between pressing keys and commands registering. As you might expect, the Streak65 is designed for esports play, and the accompanying Fnatic OP software lets you customise your keyboard however you like.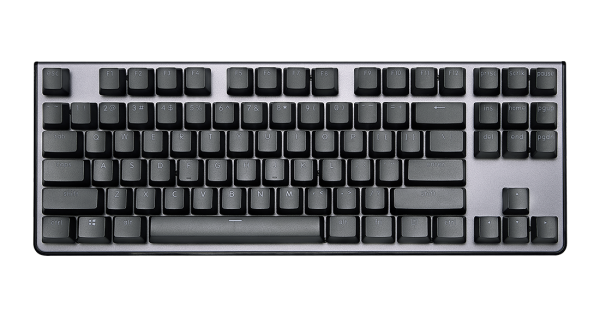 Frankly, the G.Skill KM360 has no business being as affordable as it is. This is an incredibly well-built keyboard for the price; it's even got Cherry MX switches, which you'll find on keyboards twice the price of this little marvel. The cable is detachable, so if you find that it's starting to wear, then replacing it is simplicity itself. Feel-wise, the KM360 is great; it's got low travel time and a lot of click for its buck, so you won't feel like you've compromised on quality at all for the lower price.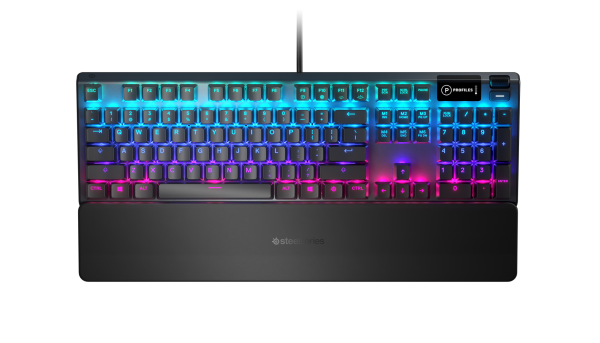 Sometimes, a pure mechanical keyboard isn't an appropriate option. However much gamers might like the satisfying click of mechanical switches, a middle ground should exist between that and the quieter profile of membrane keyboards. Enter the SteelSeries Apex 5, which offers an excellent mecha-membrane keyboard solution. Its wrist rest is extremely comfortable, and the keys themselves feel like they have mechanical switches despite the construction.

Wireless gaming keyboards can be a real mixed bag. On the one hand, the convenience of having fewer cables is undeniable, but on the other, wireless keyboards can occasionally cut out or lose connection, which isn't ideal during a tense game. That's not a problem for the G915, which has a rock-solid connection and a construction to rival any wired keyboard you care to mention. Sleek, solid, and beautiful, the G915 is the only wireless gaming keyboard you need.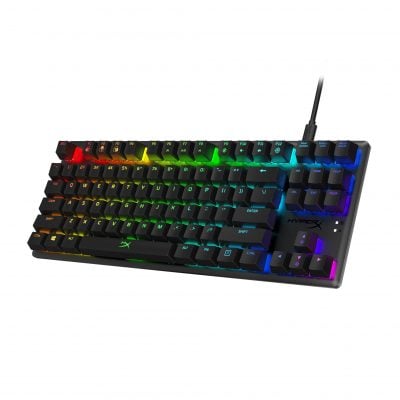 On the more budget-friendly end of the gaming keyboard spectrum, we have the HyperX Alloy Core. This all-membrane option is ridiculously cheap considering its quality, and while it won't rival the best mechanical keyboards for sheer tactility, it's still a great experience using the Alloy Core day-to-day. It's got HyperX's signature light bar built into it, and you'll also find a range of RGB options with multiple zones. Add spill resistance and dedicated media keys and you've got a great wallet-friendly keyboard.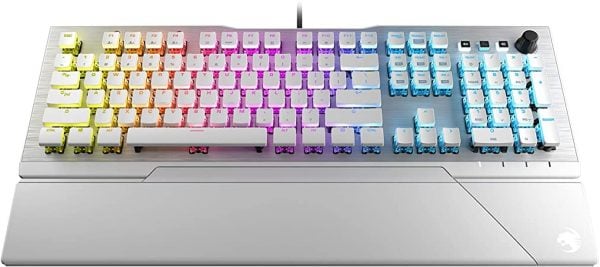 Roccat doesn't get the love it deserves as a gaming keyboard manufacturer. Its keyboards are unmistakable; they're extremely distinctive creations that leverage the brand's unique aesthetic in order to set themselves apart from the herd. Of course, the keyboards themselves are also great quality; the Vulcan 122 has custom Titan switches with a crisp, satisfying click to them, and the included wrist rest should help you maintain comfort across lengthy gaming sessions.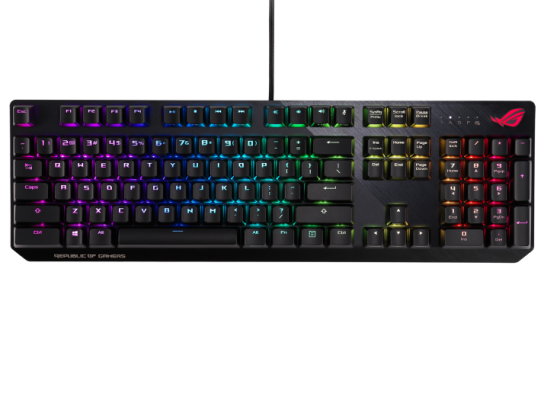 As one of the few TKL (tenkeyless) keyboards that comes with a wrist rest, the Scope NX TKL is definitely worth your time. It's as small as you'd expect a TKL keyboard to be, and its wrist rest is extremely comfortable. Perhaps one of the best and most interesting features on this mechanical keyboard (which comes complete with ROG NX custom switches) is its Stealth key, which immediately mutes all audio and hides all apps in case you need to conceal your activity.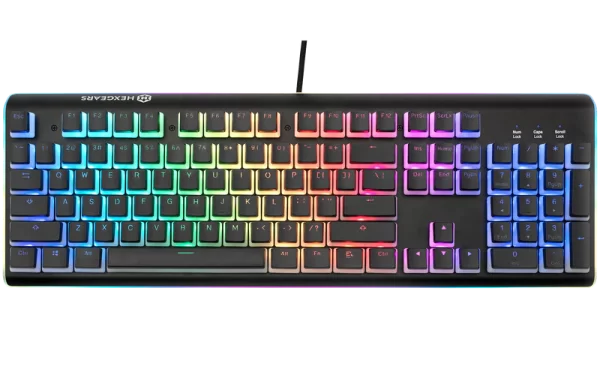 Controversial though it may sound, for some gamers, the typing experience on a mechanical keyboard is just as important as the gaming experience. If that's the case for you, then you may want to try the Hexgears Impulse, which is a mechanical keyboard that comes in two varieties, one with pudding-style keys and one without. The typing experience here is much smoother and more efficient than it is on other mechanical keyboards, which can often require more effort when it comes to lengthy typing sessions.