There's no point in mincing words here, the purpose of this list is simple – to provide you with an inventory of no less than 10 great headset choices to go along with your Xbox One. Each one of these entries will perfectly compliment your gaming / online experience in various ways, and as always, be sure to choose among those that best suit your style and needs…

Shoring up the difference between the higher end models and more budget-based offerings, Turtle Beach is long known as one of the more dependable headset makers. Don't get the wrong idea though; they aren't simply producing middle-of-the-road throwaway stuff here. Their Ear Force XO Four is a great example of what happens when you pair quality sound reproduction with relative affordability and solid features. In other words, it contains all the stuff you'd expect to find in an expensive model, only at a slightly lower price than most other top-flight models. Definitely a great first choice pick for those who can't make up their mind yet require great sound reproduction.
Arguably, the Xbox One Stereo Headset (from Microsoft) is the first model you should seek out for one simple reason – it is officially licensed and is made by the same company that created the console it's used on. Those factors alone should be enough to push many toward picking one up, but let's not forget about its great sound quality or relatively affordable price either (undercutting most other manufacturers' similarly designed offerings).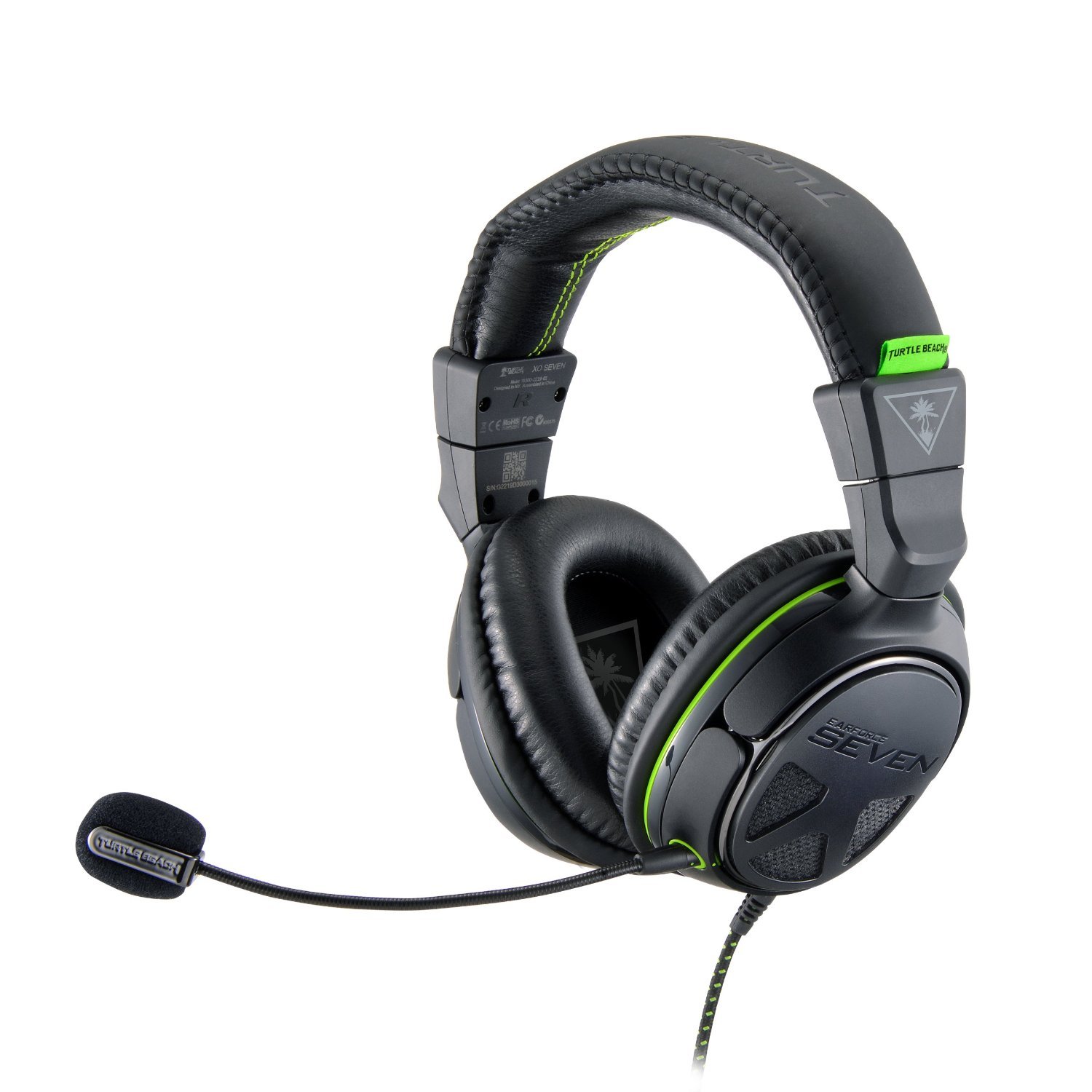 Basically, Turtle Beach' Ear Force XO Seven Premium headset is a "supped-up" version of their XO Four line, with enhanced audio capabilities and all the right features one would expect. Yeah, it is a bit pricier than one might want but you pay for quality, don't you? Needless to say, as far as audio reproduction is concerned, this unit does an excellent job of covering the entire frequency spectrum, even at higher volumes, all while remaining very "solid" and comfortable during extended gaming sessions.
Of course, there's always another option available, especially if you already own a really great headset – picking up an Xbox One Stereo Headset Adapter. In short, this little plug will allow you to use any headset with a mini stereo jack with the Xbox One. Again, assuming that you have already previously purchased a great unit for older consoles like the Xbox 360 or PS3, picking one of these up is certainly a no-brainer. Furthermore, many of the units on this list already come with an adapter like this, which is certainly a more than welcome addition you'll get lots of use out of.
TRITTON is a great company which specializes in aftermarket equipment for gaming, offering great quality alongside affordable prices. Naturally, it was only a matter of time until they produced a few great headsets for the Xbox One, and the Kunai is certainly that. The sound quality is definitely good and features like the detachable mic and easy access audio controls further enhance its sweetness.
Who said you had to go all out? If you want a super-affordable headset that gets the job done with sufficient audio quality, comfort and the ability to converse with others online, look no further than Microsoft's Xbox One Chat Headset. Assuming that you mostly play with speakers / ambient sound and only need a headset for special circumstances or late-night gaming, this is the one to get.
Taking the affordability situation a step further from their Kunai series, TRITTON came out with the Kama line, which integrates many similar features but at an even cheaper price. While you couldn't really say that this unit could rival a more expensive model, rest assured that the audio quality is good enough to get the job done several times over. Likewise, it has all the features you need for general gaming, online as well as offline.
When it comes to great value, where you don't really want to sacrifice any features at all, you can't go wrong with a HUHD Xbox Fiber-optical Wireless premium headset. Not only is it wireless (with up to 8 hours of juice), but it also features noise-canceling technology as well as the ability to configure its highly sensitive speakers. When you really step back and take a look at all of its features, it's hard to believe that you can grab one for less than $100. You'd expect these types of features and quality to be found on a pair easily topping that.
Polk Audio's 4Shot series is known throughout the gaming community as being fairly great. The biggest selling point here is obviously the sound quality, which is superb to say the least. But they're also nice-looking units that remain comfortable even after hours of use too. When you then factor in additional features such as the ability to take calls while actually playing a game (with the touch of a button) and the nearly hidden near-field microphone, you have a truly amazing headset which promises and delivers on multiple fronts simultaneously.
Last but not least we have another Turtle Beach entry – the Ear Force XO One amplified stereo gaming headset (for Xbox One). While it might easily stack up to most other units priced just shy of the $100 mark, the Ear Force One's biggest selling point is definitely its sound quality. The entire sound spectrum resounds within, with crisp highs and booming lows, allowing for an increased sense of immersion. Moreover, the chat audio is also top-notch, which is vitally important for the more social gamer.