"Theme Park World" (aka – "Sim Theme Park" in the US) is a simulation title that focuses on placing gamers in the shoes of a theme park manager / developer. While that premise might sound somewhat droll, the game is actually quite fun, as it challenges you to think like a business person whose main interest is in creating a really great theme park for guests to enjoy. As you might expect though, this is easier said than done. You'll not only have to research and build these rides and amusements, but you'll also need to turn a profit if you want to stay in business.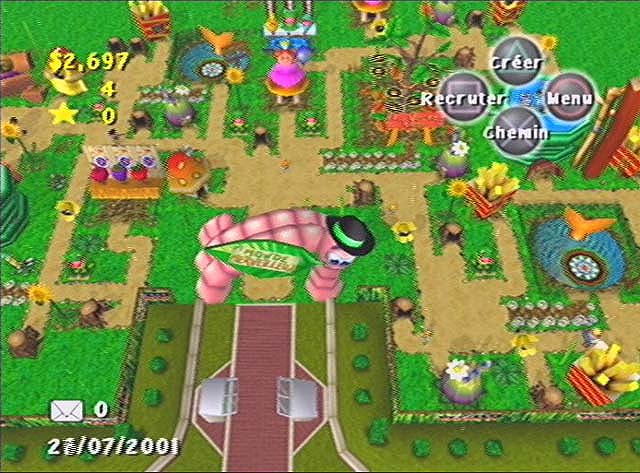 Naturally, "Theme Park World" isn't the first title of its kind to find its way into the PlayStation library; it is, after all, a sequel to 1994's "Theme Park", which was fairly successful. Those who are familiar with the bevy of other Simulation titles such as Sim City and Transport Tycoon will already know how this game is set up to work. The game itself wasn't natively developed for the PS1, but the Windows OS.
The game itself is divided into "worlds", of which there are 4. However, don't think for a second that they're merely generic copies, each having been altered to simply look different. No, each world has its own rides, attractions and level of difficulty attached to it, with the challenge increasing as you progress through them, naturally.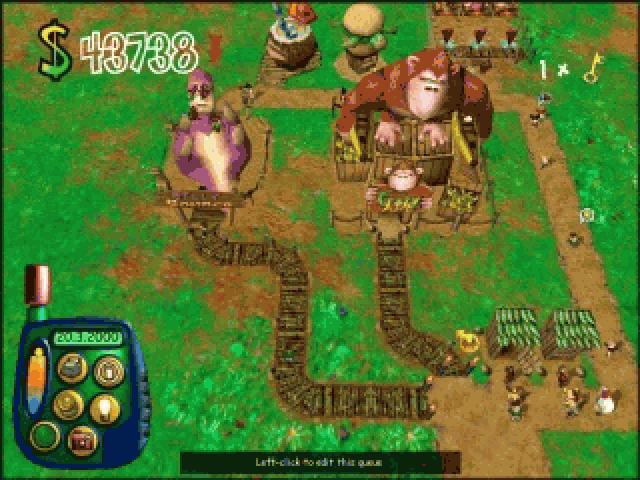 First up there's the "Lost Kingdom" which is essentially a jungle-laden area which features a mish-mash of dinosaurs and Aztec-like ruins. While you're working in this area the general goal is to familiarize yourself with how the game works. Moving on, you'll find yourself in the "Halloween World", which is your token "scary" seasonal environment that possesses its own allure. Following the complete of those levels (and after you've collected three "golden keys"), you'll be able to access the "Wonderland", where the challenge factor is increased quite a bit. Assuming you manage to turn that area around for the better, the "Space Zone" will become available (which requires no less than five "golden keys" to unlock). Here you will find significant challenges amidst space and alien themes.
Additionally, there are certain special rewards you can garner in the form of "golden tickets" by completing certain side objectives or challenges. This ranges from how many hundreds of visitors you're able to draw into your park to the total amount of profit you've been able to collect in a year. The big benefit here is that you can purchase special rides which cannot be researched.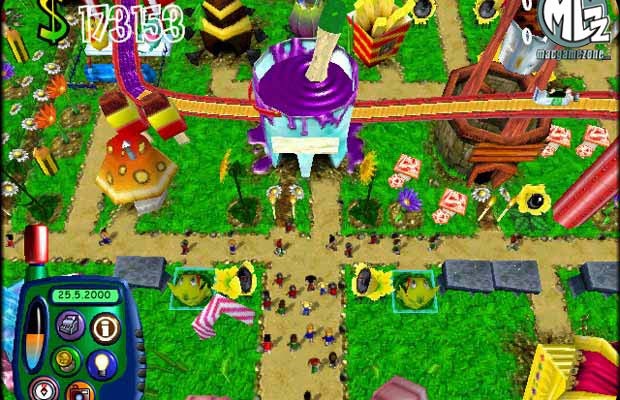 Arguably, the coolest feature of "Theme Park World" is the ability to actually ride some of the attractions in first-person view mode. This little perk comes in addition to the general visual upgrade that the game possesses over many others – it being a mixture of an overhead 2D game and some 3D elements which become apparent when you spin the camera around to look at your park(s). Simply put, this is a game that PS1 (and PS2) owners should definitely check out.