Many gamers are gearing up for some potentially excellent games that are coming later in the year, although for mobile gamers, the options are already extensive. While the graphics and the overall gameplay on a smartphone device might put some off, there is no denying that gaming on our portable handheld devices appeals to millions of others. In fact, mobile gaming is booming around the world right now for a number of notable reasons.
One key ingredient behind the influx of mobile gamers is the dramatically improved games that are now downloadable. Available on iOS and Android devices, mobile games have reached new heights. For Marvel fans, there are a number of worthwhile titles to explore also. In the same way sports fans have FIFA and there are open-world masterpieces like Genshin Impact, Marvel fans typically enjoy Marvel games, although we have certainly been forced to endure a number of cash grabs over the years. Thankfully, with many of the forgettable releases vanishing somewhat, we're now left with some truly excellent games that are well worth devoting some serious time and attention to. So, without further ado, let's take a look at some of the best Marvel titles on mobile.
Marvel Contest of Champions
One of the most popular games on mobile, Marvel Contest of Champions serves up the strong doses of action and chaos that fans of the franchise are familiar with. A fighting game highlight on mobile, players are tasked with creating a killer line-up of instantly recognisable Marvel favourites. Then, from there, you'll determine your best pairings ahead of a number of battles. Not only do your pairings have to make sense, but there are a number of moves to master and rewards to earn along the way. Overall, when assessing Marvel-themed mobile games, Marvel Contest of Champions is definitely one of the top games around.
Age of the Gods Norse: King of Asgard
A prominent character in many of the Marvel films, Odin, the titular "King of Asgard" is featured prominently in this superb slot machine game. While this isn't a Marvel game as such, it's based on Odin's familiar mythological kingdom similar to the Marvel Thor movies and comics, as you aim to spin your way to glory while stumbling across an array of familiar Norse gods and monsters along the way, from the likes of Thor and Fenrir to Jotnar and Jörmungandr. Age of the Gods Norse: King of Asgard is relatively easy to grasp too, with this progressive jackpot slot offering 50 paylines across 6 reels and representing a genuinely fun product to sample.
Marvel Pinball
Away from the more intricate releases are simple Marvel-themed products like Marvel Pinball. A much-loved game, people can access a variety of pinball titles on mobile, although not many of them offer a Marvel theme like this one. As you aim to score big and amass a notable high score, you'll notice a number of familiar Marvel characters are on the table as you play. If you like pinball, then you'll like this one.
Marvel Strike Force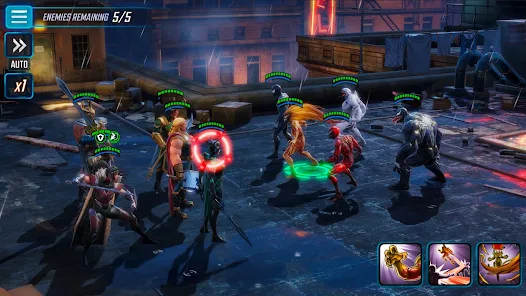 An incredibly fun, turn-based RPG, Marvel Strike Force: Squad RPG is another title where players are challenged with assembling a formidable line-up of Marvel favourites as they hope to protect the world from an external threat, although the villains and the heroes team up to tackle the onslaught in this particular product. From Loki and Hulk to Captain America and Red Skull, they're all available in this really fun release, with players also having the opportunity to unlock powerful gear and an array of dangerous abilities.
Other options include Marvel Future Revolution, Marvel Future Fight, and Marvel Snap.