Certainly the wheel has played an integral role in the formation of modern society; maybe it could do the same thing for your video game driving experience, no? Let's get this straight – if you want to further immerse yourself in a video game driving experience then there's really no better way to do so than to use a steering wheel. Sure, keyboard controls or even a controller is fine, heck, it might even work out better for SOME, but most will agree that an actual control wheel can't be beaten, if you're really into racing games, that is. Of course, just any example won't do, you need the right levels of precision and durability, not to mention weight (and other factors) to really get the best experience. The following 10 steering wheels are among the best you can use if you are a PC gamer…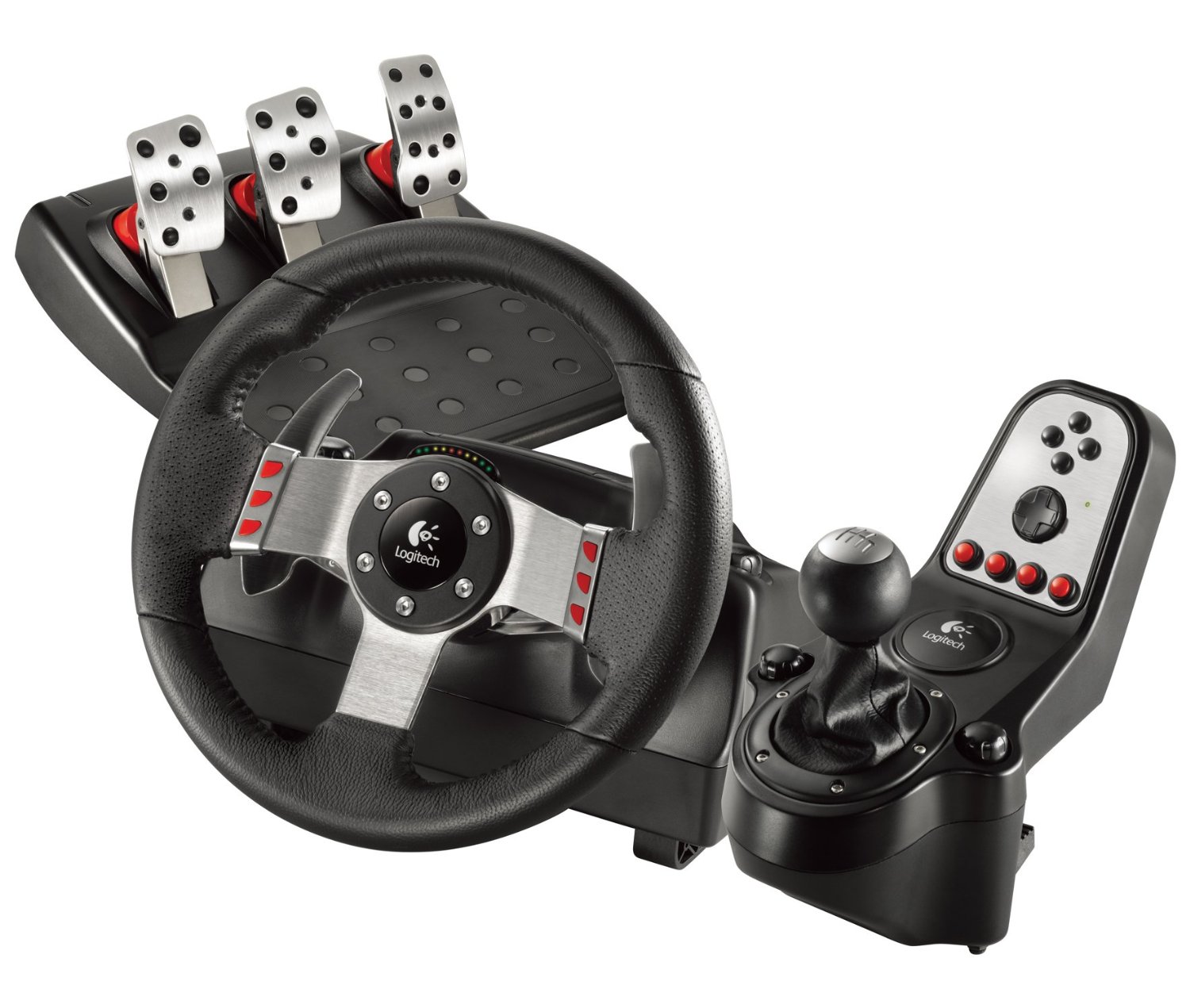 Of all the racing wheels on the pricier side, Logitech's G27 pretty much takes the cake. Simply put, it seems to lie in the sweet spot where features and value come together to produce the best effect. As expected, it also performs extremely well when used with games too, which is obviously critical and kind of the point of the device. The smallest details can either make or break systems like these. Ideally, you want one that really compliments a wide range of titles and has……a nuanced sort of feel, where the response isn't too fast or slow. If you're already familiar with using racing wheels then none of this should come as a surprise, of course. Anyway, the point is, among all the racing wheels out there, quite a few people tend to gravitate specifically toward the G27, take that as a sign that they've done something right.
Assuming that you're not quite ready to go full-on with your gear and/or might like something entirely different, there's the SteelSeries Simraceway SRW-S1 Gaming Steering Wheel. First off, you actually hold this in your hands and twist it in mid-air, as it is controlled somewhat gyroscopically. It's stacked with no less than 15 buttons and full programmability too, allowing you to actually customize nearly every aspect about it. Do you prefer a tighter or looser feel? The SRW-S1 can accommodate whatever specific type of control settings you prefer. Of course, keep in mind that it IS a sort of unique wheel, all things considered, you won't find many companies making controllers like this.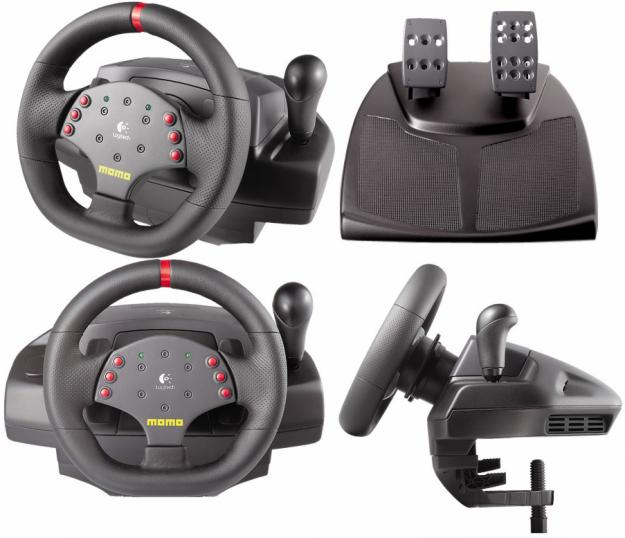 Here's another wheel from Logitech, this time the MOMO force feedback model. Its claim to fame is its relative affordability and upper end design features. In other words, we find lots of little perks here and there, thoughtful additions which make use easier alongside the kind of precision found in more expensive units.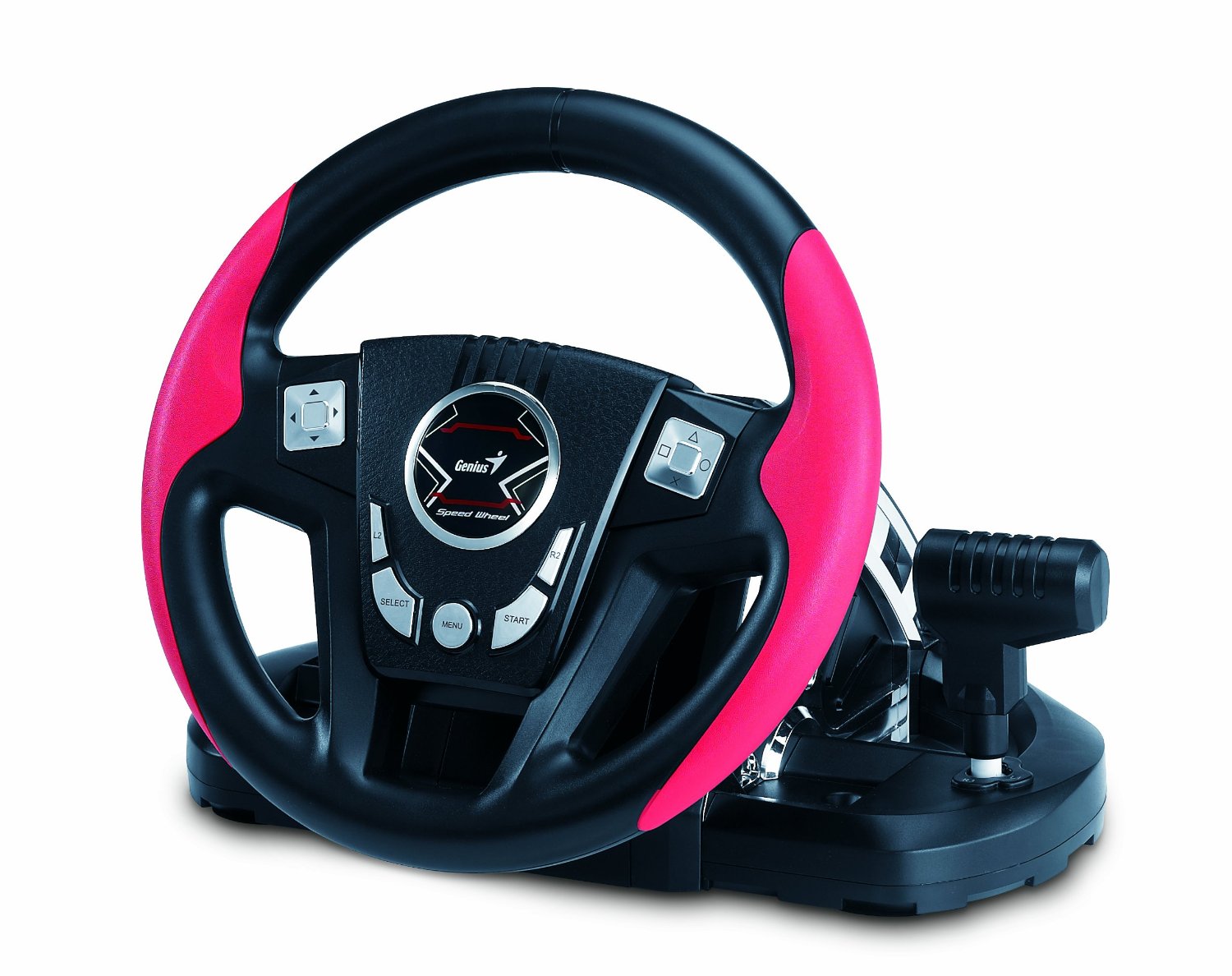 The Genius Speed Wheel 6 MT is a neat little puppy that can attach to a desk via a vice mechanism, transforming your workspace into (basically) an arcade station of sorts. It features dual motors, hand controls, a d pad, as well as manual transmission…basically all the stuff you need to handle any racing game out there. The foot pedals are also pretty nice, replete with slip resistant pads.
Basically, the Saitek R440 force feedback racing wheel adds all the standard functions that are needed in addition to a very special force feedback system. In short, this allows you to really experience the "feel" of a race, with the growl of an engine or bumps in the road immersing you in the gaming experience.

What's that, another entry from Logitech? ..yeah, they're really quite active in this area and are more than eager to compete with any and all challengers too. Their Logitech WingMan Formula Force GP Wheel is a testament to that. It is also a force feedback based unit which places you in the heat of the action with vibration. As for its other features – they're great too.
No, we're not moving from Logitech wheels just yet… The G25, which is obviously part of the same line as the fab G27, takes things to an entirely new level. With an MSRP of $399.99 you know that it must be packing some serious features, and well…it is. It's a dynamite racing wheel mechanically speaking but it also comes with real leather and even handcrafted components. If you have the dough to drop on a quality wheel, this is definitely the one.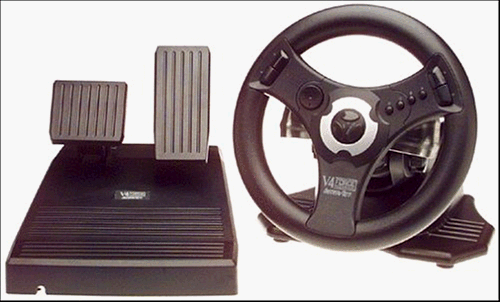 Interact's V4 racing wheel is also force feedback equipped and nice to use with most content out there but it might be a little bit hard to find. You can probably pick one up on ebay or amazon used, of course, the draw of this unit being that it is compatible with older windows OS's, which many retro gamers might find to be particularly useful, we're guessing.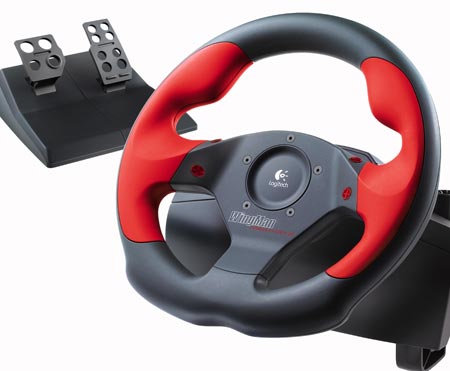 Our last Logitech entry is the WingMan Formula GP Racing Wheel, which connects via convenient USB. It's not a particularly expensive unit either, making it a perfect choice for most gamers who are just getting into racing wheels (or racing games). Likewise, everything's fairly solidly constructed too, which means you won't suddenly find it breaking on you.
Topping everything off and sort of integrating most of the other features found on all the other wheels on this particular list, we have Microsoft's SideWinder Force Feedback Wheel. It uses USB, supplies vibration, uses non-slip grips, clamps onto desks, includes pre-defined schemes and is fairly affordable. Honestly, a lot of people would do well to pick up one of these racing wheel packages and it works fairly well with a large cross-section of games out there too.