Having data stored in a portable device can offer many benefits, particularly if you regularly move from one location to another. Much easier to transport around than a laptop and with a larger memory than a tablet, portable USB devices offer a huge amount of convenience, but lack security. Until now….
The diskAshur² is a beast of a device, offering up to 2 TB of storage. However, while there's a definite capacity, the huge news is that it is hot on security too. There are other devices which offer encryption, but it is rare to find hardware that's as well locked down as The diskAshur². However, what's beneath that quirky rubber exterior? Here's a closer look.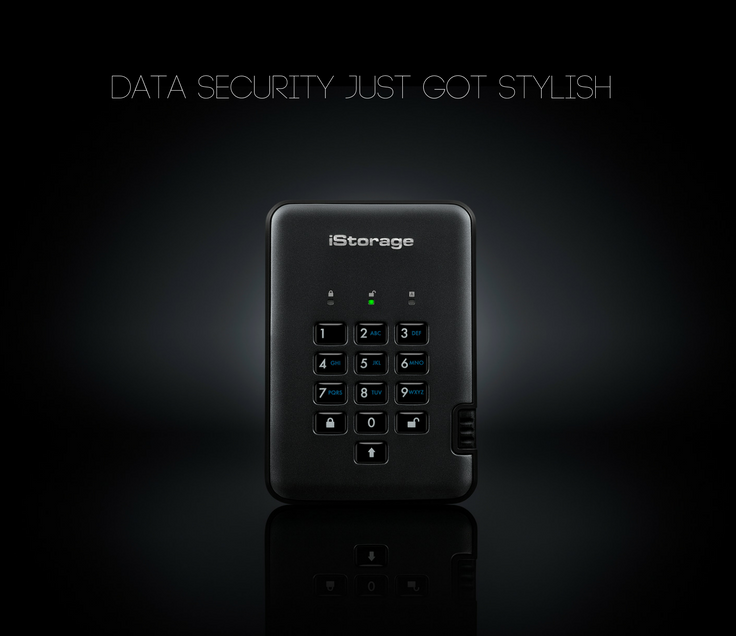 The basics
Developed, designed and manufactured entirely in the UK, the diskAshur² is a USB 3.1 portable encrypted hard drive offering a capacity up to 2TB. Using EDGE (Enhanced Dual Generating Encryption) technology, the diskAshur² is widely regarded as one of the most secure drives on the market.
As an independent device which requires no software to set up, it is entirely compatible across all platforms; all that's needed is a USB port. MS Windows, Linux, OS Mac, Chrome, Android, Thin Clients and any embedded systems will all work with the diskAshur². There's real-time AES 256-bit XTS hardware encryption, and the data transfer speeds are lightning fast. For reading the diskAshur² offers speeds of up to 148MB per second while writing comes in at 140MB per second.
The exterior is rubberised and smooth which has the dual features of not only looking good but also forming a shock resistant outer. Available in four colours – Fiery Red, Ocean Blue, Phantom Black and Racing Green – users can pick the memory size which suits their needs from the entry level of 500GB up to a whopping 2TB. IP56 certified, the diskAshur² may not survive a prolonged dunking underwater, but it is resistant to water and dust.
The large numbers on the keypad dominate the appearance, however, but these are an essential security feature. By using an integrated PIN rather than relying on the computer's own keyboard, it prevents key loggers and brute force attacks from being able to gain access.
The right-hand side of the diskAshur² offers the integrated cable while overall it is not much larger than a standard drive at 124 mm x 84 mm x 19 mm. A smart carry case is also included in the package, a practical accessory for a portable drive.
Secure against hackers?
Although the hard drive might feel secure when you are tapping in your pin number, you may still be worried about how easily it could be hacked into if it fell into the wrong hands.
There's no way to get into the device without the PIN number and the security on diskAshur² means that would-be hackers cannot just keep trying to guess the number. The Brute Force Hack Defence Mechanism allows just 15 attempts to get in before it assumes that the device is under attack. The defence mode is then activated which erases the encryption key and locks entry, rendering all data permanently inaccessible. The only way to make the diskAshur² usable again at this point is by resetting it to the factory default and starting from scratch. There are no actions which will reinstate the previous data and make it accessible.
There's an auto-lock facility too which re-locks the device when it has been left idle for a specified period of time. There's also a Wear Resistant Epoxy Coated Keypad which doesn't just mean the keys look good for longer it also prevents keys from being worn away and providing clues to the possible PIN.
As well as the natural PIN number there's a special Self Destruct feature. This is a different PIN which, if entered, will immediately wipe the encryption key and render all the data permanently inaccessible.
Aside from all the in-built protection in the features, the drive is also resistant to physical attacks too. Every component is covered with an extremely tough epoxy resin which is impossible to remove without damaging the critical parts. This means that there's a physical barrier that hackers must overcome too which is almost impermeable.
Any drawbacks?
It is hard to find fault with this device as it is super secure and impervious to the types of weaknesses which can be inherent in software driven devices. However, there are a couple of small issues that could do with a bit of a tweak.
It is impossible to use the diskAshur² without plugging it into a computer, but after unravelling the in-built cable it soon becomes apparent that it's far more suited to laptops. The lead is too short for comfortable use with floor desktop boxes, particularly those with rear-facing USB ports. It is possible to expand the range by using an extension lead but this is cumbersome and awkward, and far from the portable experience many users will desire.
For some users, the automatic reaction which renders all the data lost forever may feel a tad extreme. If you do not have either the regular or admin PIN number, there's simply no way past the security, and this means no way to access the data. However, the diskAshur² is intended for those who want to protect their data and ensure it doesn't fall into someone else's hands, either deliberately or accidentally. For this reason, this level of encryption and security is essential to make sure it cannot simply be bypassed by a canny hacker. If you decide to invest in an encrypted USB drive, keeping the instruction manual and remembering the PIN are two essential elements.
Nifty and safe storage
The diskAshur² is a portable encrypted hard drive which offers users excellent flexibility at the point of purchase and continuous protection for their data. The safeguards in place will repel even the most determined of hackers, offering top level security on many different levels. With an attractive exterior, convenient carry-case and the potential to invest in a 2TB memory, the diskAshur² is one of the best of its kind on the market.
diskAshur PRO²
We thought it would be worth mentioning the 'PRO' version of this product. Taking security to an additional layer and aimed towards multinational/corporates who require products which meet military and US government accredited products – we hope to review this product later.