With over 10 million downloads on Android and more than 1.6 million ratings on iOS, it's safe to say that BitLife is one of the most popular mobile games on the market right now.
The game's principles are simple; it's basically a text adventure in which you must make a series of decisions about your life, monitoring how they change your character as you go.
Despite that simplicity, there's an addictive quality to BitLife that makes it a joy to fire up every time you grab your phone, and that kind of compelling design isn't found everywhere in the gaming world.
With that said, if you've grown out of BitLife or just want to try something else, you've got plenty of options. Here are the best games like BitLife to try out right now.
Much like BitLife, Enclaver is a "text life simulator" that lets you essentially live out a life through a series of decisions. Will you try to lead a moral life or plunge your character into the depths of corruption?
Enclaver boasts an open-world environment in which to experiment, as well as drivable cars, multiple decision paths, and more. If you love BitLife, this is a great alternative to check out, although it's a little rougher around the edges than BitLife.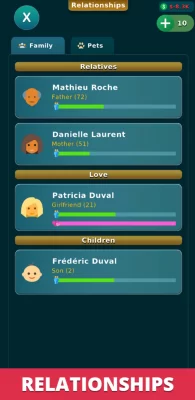 You won't find quite as much content in AltLife as BitLife, and this game is unfortunately only available on Android devices, but it offers similar text-based thrills to BitLife.
In AltLife, you can choose to live a boring life that's completely unremarkable or chase your dreams doing whatever you please. It's another text adventure life simulator that presents you with a series of decisions to make and lets you go in whatever direction you like.
Another Life – Life Simulator (Android, iOS)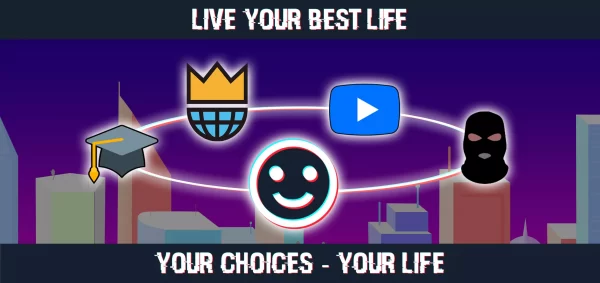 Describing itself as a "simple and addictive life simulator", Another Life works on a similar basis to Enclaver, AltLife, and BitLife. It's a decision-based text life sim in which you can craft whatever kind of life you desire.
Another Life lets you find your dream spouse, work at achieving your goals, and slowly move towards success. Alternatively, you can crash and burn and see where that takes you instead. The choice is yours!
Unlike some of the above options, Alter Ego is also available on PC via Steam, so if you're looking for a desktop-based game like BitLife, then this is a good place to start.
Boasting "over a thousand multiple-choice questions" and two "substantially different" paths you can take, Alter Ego begins with your character's birth and ends with their death. What happens between those two points is largely up to you.
Unfortunately, you won't find Long Live the Queen on mobile devices; it's available for PC, Mac, and Linux, but you can't play it on Android or iOS. Happily, though, the game isn't very demanding graphically, so you should be able to play it even on underpowered laptops.
In this choice-based adventure, you play as a princess who must navigate the difficult and cutthroat world of royal intrigue. Work on your social skills, try to find a charming prince to marry you, and avoid the many attempts that jealous pretenders will make on your life.
Hey, it stands to reason that if you love BitLife, you'll probably like The Sims as well, right? If you haven't already played EA's phenomenally popular life sim, then the fact that it recently went free-to-play should be all the motivation you need to check it out.
Unlike the aforementioned games on the list, The Sims 4 isn't text-based; it's fully graphical, so you're going to need a decent PC to run it. However, it's not a massively demanding experience, and it's a deep, compelling life sim with plenty of options for working, loving, and living.
If you like BitLife, but wish it was just a little more, well, rural, then Stardew Valley could well be the game for you. In essence, Stardew Valley is extremely similar to Harvest Moon (now known as Story of Seasons); they're both idyllic farming sims that are all about getting to know the community around you.
In Stardew Valley, you'll start your very own farm, growing whatever crops you like and raising livestock. You'll also have the opportunity to start a family with an eligible romantic partner, explore the town and its surroundings, and participate in festivals, among many other things.
Here's a text-based life sim with a difference. In Suzerain, you take control of Anton Rayne, the president of the country of Sordland. Conflict is brewing, and you must steer your nation confidently to safety and peace.
To do so, you must make a series of decisions based on international and domestic policy, as well as dealing with corrupt officials, trying to placate the public, and generally grappling with life as a leader. It's not easy, but then, nobody who actually wants power should ever have it, right?
Reigns may look simple on the surface, but the basic appearance of this game hides a wealth of strategic decision-making opportunities that should have you hooked if you're a fan of BitLife.
Created by Nerial, Reigns puts you in the role of a monarch of a fictional medieval nation. Advisors will attempt to tell you how they think you should rule your kingdom, and you can choose to accept their advice or reject it. Your choices will, of course, have a significant impact on the fate of your realm.