Retro gaming doesn't just apply to consoles. While consoles and PCs take up the majority of retro gamers' time, there's a growing market that wants to experience the world of retro mobile gaming. By that, we don't mean playing retro games on your modern device, although it's definitely worth looking into doing that as well. No, we're talking about revisiting older mobile devices and playing the games that were available on those devices back in the day.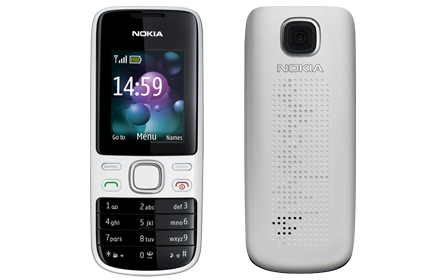 This trend was likely started by people firing up their old Nokia 3210 or 3310 devices and playing a game or two of Snake, but now, it's expanded to a whole other set of devices, including the rather odd little Nokia 2690. Here are our favourite games for this phone that you can play right now.
Bounce Tales
If you've ever owned a retro Nokia phone, you'll know about the Bounce series of games. Well, this is an entry in the late-2000s revival of that series, in which you must control a red ball as it platforms its way through a series of increasingly difficult challenges. Bounce Tales is a fun, retro-style take on Nokia gaming, and we love it all the more for the ways in which it evokes the classic Nokia series while also establishing an identity of its own. If you've got a Nokia 2690, you should give this one a look, as it's a pretty fun way to spend an afternoon or two.
Final Fantasy II
That's right: Final Fantasy II is available for the Nokia 2690! Unofficially, at least. This is often referred to as the "black sheep" of the JRPG family, and for good reason; it's a tricky game with lots of weird interlocking systems to learn, and its story isn't particularly gripping. However, as an artifact of how far Final Fantasy has come since its inception, Final Fantasy II is worth experiencing. It's also the first game in the series to actually have a plot with a solid, consistent through-line; each village and NPC you come across will have a story related to the Empire that is ravaging the land.
Grand Theft Auto IV
Much like Final Fantasy II, Grand Theft Auto IV has a version you can download on the Nokia 2690, although it's worth noting that this is a fan conversion and as such is not the 3D game you probably know and love. In fairness, the developers have done a solid job converting Grand Theft Auto IV to the small screen; it's not the same game you've played a hundred times, but it's a solid facsimile, complete with the living, breathing Liberty City you've come to admire. While Grand Theft Auto IV is best experienced on consoles or PC, this mobile version is impressive, at least.
TicTacToe
Hey, who doesn't love a nice game of Tic-Tac-Toe, right? This version is as simple as they come. You and a friend face off against one another, aiming to be the first to draw three of your symbols and create a line. However, as an added bonus, this Nokia 2690 version of the game also allows you to expand the playing field, thus also expanding your potential strategic options and making the game of Tic-Tac-Toe even more fun. You can unlock lots of extra icons by playing, too, giving you an incentive to stick with this one.
Dogz 2
D'aww. Who doesn't love puppies? Dogz 2 is a pet-owning game in which you can choose a dog to adopt. You'll then have to look after your dog, taking care of their needs and making sure they have everything they could want. This is part of the long-running Catz and Dogz franchises, each of which has lots of games you can choose from. Taking care of pets on the go is rewarding and fun, as the Tamagotchi devices taught us, and Dogz 2 is a great continuation of that concept. Give it a look if you want something a bit less action-heavy.
SimCity Societies
If you've played the original SimCity Societies, which was a PC game released in 2007 and developed by Tilted Mill as opposed to series regulars Maxis, then you'll know what to expect from this Nokia 2690 conversion. It's basically the same city-building sim you know and love, although it has, of course, been downsized in order to accommodate the 2690's more modest screen and processing power. Take control of a city, engineer its society in order to fit what you want, and focus on the needs of your citizens in order to become the best leader you can possibly be. What's not to love?
Angry Birds Seasons
Rovio is a well-known mobile developer; it's actually the studio that created the Bounce Tales game we recommended earlier. Angry Birds is inarguably Rovio's most famous export, and it makes an appearance on the Java platform favoured by the Nokia 2690 as well. It's the same bird-based physics puzzler you know and love, complete with lots of levels and chances to unseat those smug pigs. You can send cards, collect chocolate eggs, and do plenty of other stuff as well in this 2690 conversion of a smartphone favourite. Be sure to check this out if you love the Angry Birds series!
---
These are our favourite games to play on the Nokia 2690. Of course, if you don't see anything here that takes your fancy, there's bound to be something out there that will appeal to you! What are your favourite Nokia 2690 games? Let us know!