Being a Mac gamer can sometimes be a rather difficult proposition.
While PC gamers get a ton of options and lots of ways to upgrade their machines, Apple has traditionally been much more reticent with allowing Mac owners to fiddle under the hood, and many newer games just aren't supported on Mac.
That's not to say that nothing is coming out in 2023 that you can play on your Mac, of course; if you know where to look and you're happy to leave your comfort zone to try out new genres, there are some great Mac games you can play.
With that in mind, let's take a look at the best Mac games 2023 has to offer!

If you're a fan of RPGs, single-player experiences, multiplayer experiences, or just plain old-fashioned great games, then you need to check out Baldur's Gate 3 on your Mac.
Astonishingly, Larian's sweeping Dungeons & Dragons epic features full native Mac support, so there's no excuse for not enjoying this hundred-hour epic to its fullest on your Apple machine. With memorable companions, an excellent story, and an incredible breadth of options when it comes to questing, Baldur's Gate 3 is the RPG genre's crowning achievement.

Mintrocket's weirdly contemplative smorgasbord of genres must be seen to be believed. Get this: Dave the Diver is an undersea exploration game with restaurant management elements, fishing, and more.
Despite the potential for feeling like a complete dog's dinner of a game, Dave the Diver somehow works. It's all held together by a sense of heart and genuine passion; this is clearly someone's dream game, and even if there are moments where it doesn't quite hang together, that just somehow makes the experience even more charming.

The Soulslike genre has seen its fair share of pretenders to From Software's throne over the years, but Lies of P could be one of the first ones to genuinely offer something a little more interesting.
Rather than focusing on taking Dark Souls' crown, Lies of P goes straight for Bloodborne's jugular, combining that game's fast-paced combat with a fascinating world in which puppets run rampant through the ruins of a beautiful Belle Epoque-inspired city. The writing might be completely bonkers, but that's why we love it!

Sam Barlow's excellent Immortality was technically released for PC and Xbox consoles back in 2022, but the Mac version came out in 2023, so we're including it on this list (hey – it's slim pickings for Mac users).
This FMV-based game is all about reading between the lines; we don't want to spoil it at all, because there are one or two big surprises that you really should discover for yourself. Let's just say that Immortality is about a young actress who has disappeared, and if you're interested in uncovering the story, you should play Immortality posthaste.

No Man's Sky had some pretty humble beginnings, but it's turned into one of the gaming industry's most famous rags-to-riches stories. The game began as a universally hated pariah, but now it's got a legion of devoted fans.
Hello Games' space exploration sim hit Mac this year, and there's never been a better time to check it out, especially in the wake of the phenomenally disappointing Starfield (sorry, Bethesda fans). With seamless planetary exploration, lots of creatures and landmarks to discover, and a vastly expanded set of features over launch day, No Man's Sky is good now, so give it a look!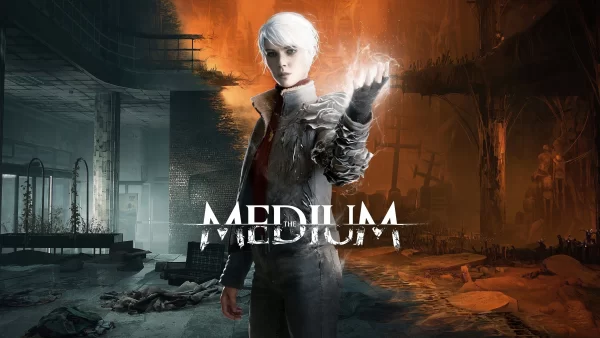 A quick disclaimer: don't go into Bloober Team's The Medium expecting a full-blooded survival horror experience. This is more akin to a horror narrative adventure with brief puzzle and chase segments than a Silent Hill or a Resident Evil.
In The Medium, you play as Marianne, a young woman who travels to an abandoned workers' resort in order to discover the truth behind her spiritual powers. As she explores the resort, she uncovers more than she bargained for and meets a terrifying creature that still calls the abandoned location its home.

Do you like Cyan Worlds' puzzle games? Are you a fan of titles like Myst, Riven, and Obduction? If so, then you'll definitely want to give Firmament a look, as it was created by the same studio behind the aforementioned classics.
Just as you'd expect, Firmament combines breathtaking visuals with abstract, obscure puzzle mechanics to create an exploration-based game that will demand you bring your A-game. This one isn't for everyone; if you prefer things to be straightforward or thoroughly explained, then Firmament will leave you cold. If you're willing to get on its wavelength, though, Cyan Worlds' newest game is well worth a look.

This is Bloober Team's second appearance on this list, and while you'd be forgiven for thinking you've played Layers of Fear before, this re-release brings new mechanics, new visuals, and extra content to the party.
Collecting both of the Layers of Fear games and adding a new chapter besides, Layers of Fear is the definitive way to experience the expertly-crafted story Bloober Team has put together. It won't revolutionise the genre, and fans of more high-octane horror will probably want to look elsewhere, but for those who like their scares more slow and contemplative, Layers of Fear should be at the top of your list of Mac games to check out in 2023.