Source: Jadorendr on Facebook.
WB Games' Injustice 2 got a new trailer on April 18 that highlighted the many talents of insane horticulturist Poison Ivy in battle with Batman and Catwoman and something that wouldn't look out of place in the Little Shop of Horrors, a bit of greedy foliage planted towards the trailer's end. With just under a month remaining till Injustice 2's May 16 launch date, let's take a quick look at the heroes and villains announced so far.
Focusing on lesser known characters and super folk from Zack Snyder's big screen romps, the roster of Injustice 2 is a varied, colorful beast despite being much the same size as its predecessor. However, due to that restraint, the sad likelihood is that some characters, like Ares, Hawkgirl, and even a popular cat from the original like Martian Manhunter, will not be joining the tyrannical Superman in his alternate universe.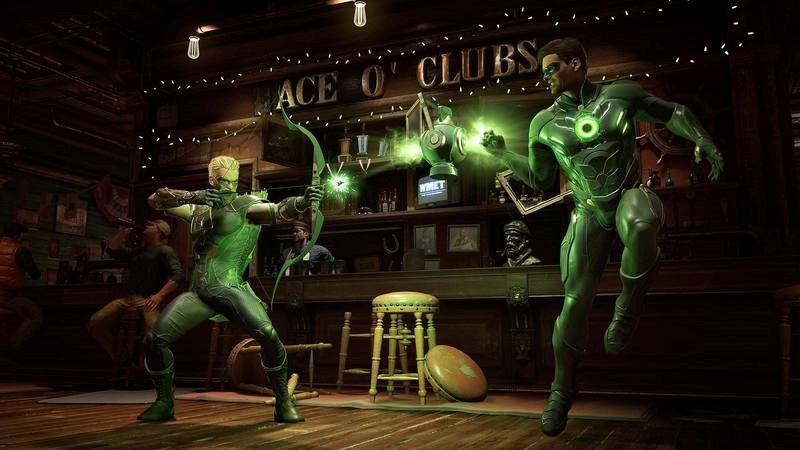 Source: Injustice on Facebook.
Batman
So, let's get the returning characters out of the way. As ever, the Bat-crowd is present in force, with Batman, Bane, Catwoman, and Harley Quinn donning their tights for the return fixture. However, a lot of Bats' supporting characters from Injustice Gods Among Us, like Deathstroke, Arkham Knight, Nightwing, and Solomon Grundy, didn't make the cut. Another notable absentee is the Joker, though there's plenty of speculation online about how he might return.
It's perhaps only fair that Batman's rogue's gallery has diminished a little; there's already a wealth of media out there featuring Bruce and Selina, and it's possible to buy everything from underwear to keychains with Batman's pointy ears on them. The bingo industry takes the cake on the "superheroes cropping up in unlikely places" motif though; Sun Bingo carries six official games featuring DC superheroes, including Superman and Batman.
In the retro stylings of the 1960s TV show, and featuring the likeness of Yvonne Craig (Batgirl), Cesar Romero (the Joker), Frank Gorshin (The Riddler), and former Batman and incumbent Quahog mayor Adam West, Sun Bingo slot games occupy a unique place in the DC universe, as one of the few places the original series takes precedence over the brooding characters common to Injustice and comic book series like the New 52.
Source: Injustice on Facebook.
Gorilla Grodd
Predictably, many of the returning and new characters feature in super teams like the Justice League and Suicide Squad or in the Flash, Supergirl, or Green Arrow TV series. Rounding off the familiar faces are Aquaman, Black Adam, Wonder Woman, Cyborg, Flash, and the two green heroes, Arrow and Lantern, including both Hal Jordan and John Stewart in the case of the latter. It's also a good bet that another Mortal Kombat character will show up as DLC eventually too.
In addition to Poison Ivy, Scarecrow and Robin are the extra Gothamites on Injustice 2's roster, while the Flash's stable is bolstered with Captain Cold and Gorilla Grodd. Black Canary, a one-time love interest of Green Arrow and a character with the rare talent of screaming really loud, is another new arrival for the sequel. She joins Superman's archenemies Brainiac and Darkseid and his cousin Kara Zor-El (Supergirl) as playable characters.
The appearance of Swamp Thing, the subject of a cult 1982 Wes Craven movie, is a surprising but welcome announcement, given how many new fans Scott Snyder must have bought the walking compost heap with his Green Kingdom/Rotworld story arcs from a few years back. The Red Lantern Corps' bundle of joy, Atrocitus, a being powered by a red "anger" power ring, will serve as a foil to the two Green Lanterns and a source of much teenage angst.
Source: Gamer Assault Weekly on Facebook.
Firestorm
Injustice 2's undercards are Blue Beetle, Cheetah, Firestorm, and Doctor Fate. The former is a bit of a loner in the DC Universe, sticking to his own comic book aside from a few forays into the Batman animated series, while Cheetah has a perennial thirst for Amazonian blood – she's an enemy of Wonder Woman. Cheetah is a lycanthrope-type character in that she's permanently bound to a "werecheetah" form.
Doctor Fate is one of the more unlikely additions, resembling Britain's Bananaman and having a brief cameo in Smallville. He is a storied hero though, with origins going back to 1940 and serving as a founding member of the Justice Society of America. Finally, Firestorm, a friend of Batman, is a nuclear-powered man with two minds in his head, and the subject of a short-lived series under the New 52 banner a few years back.
There you have it, all the changes in Injustice 2's roster. Now to find something to do for the next few weeks while we wait…