"GoldenEye 007" probably needs no introduction, especially if you gaming in through the late 90's on up into the early 2000's. Quite simply, this wonderful little title actually helped to put Nintendo's N64 console on the map in many ways. Almost overnight everyone was raving about how awesome this new bond game was, prompting legions of gamers to run out and purchase their very own console after experiencing it. Of course now, in hindsight, the game certainly appears to be rather blocky and dated, but that initial appeal is still there and it's still a hell of a lot of fun.
Of course all the "GoldenEye 007" mania extends beyond Nintendo. For many gamers, this was the very first FPS that really took hold of their imagination and truly entertained them. Moreover, a lot of people probably spent more time engaged in split-screen multiplayer battles than dredging through the games single player campaign mode (which is also awesome). Up until the time of GoldenEye, first-person shooters were typically just gore-filled bloodbaths were the goal was pretty much always the same – kill everything. This game introduced the concept of fulfilling objectives to the mix, which forever altered the way people would see FPS's from there on out.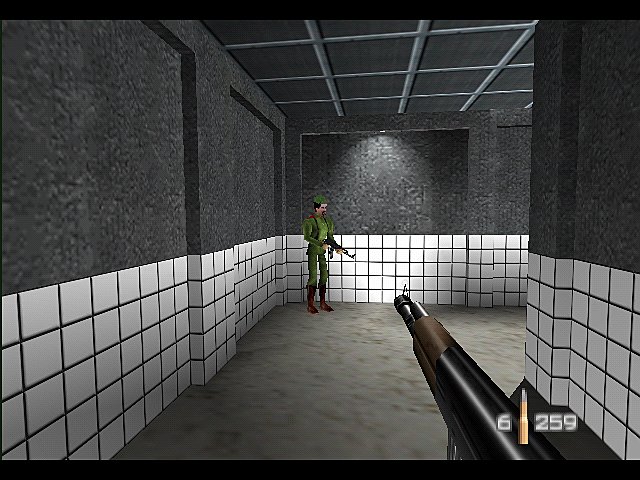 For those unfamiliar with the story, we recommend that you just watch the movie. To put it bluntly, this game more or less perfectly mirrors the film in every way, shape and form. Unlike a lot of other adaptations where there is only a shaky surface similarity at best, "GoldenEye 007" actually recreates some of the sets from the movies, quite well, in fact. Right away most people will gawk at the blockiness of the character models, with their flat faces and misshapen heads, but don't let this deter you from an otherwise brilliant game. Additionally, the levels are very well designed, each one exhibiting its own unique characteristics which make it great in both single as well as multiplayer settings.
Aside from trying to unlock the various cheats (some of which will seem next to impossible) after completing the story, most people will likely end up spending hours in deathmatches. Few games can match the level of fun and excitement that GoldenEye puts forth with its multiplayer suite. With a few experienced gamers in tow, you can literally spend hours engaged in battle, and because it's possible to customize games, there are always options available as well.
As far as retro games go, "GoldenEye 007" is right there at the top, particularly if we're talking about exploring what the N64 has to offer. Despite its age, it's still one of the most satisfying shooters ever created. Likewise, if you have a console, the game and 2 – 4 controllers, you're sure to make some friends. These days, with all the high-tech shooters on the market touting amazing HD graphics it's easy to overlook a game like "GoldenEye 007", but if you actually take the time to see what it has to offer you'll discover a charming title that's stuffed with content as well as the sort of addictive and rewarding gameplay that gamers crave.