In the tradition of quality city building video games, Cities: Skylines by Colossal Order delivers an engaging experience that lets you build and maintain a virtual city from scratch. Arguably, it's similar to the famed SimCity game which dominated the city building video game genre for some time, but some gamers suggest that Cities: Skylines surpasses it.
Since SimCity's golden era, before it faded into mediocrity with the fifth version of SimCity produced by Maxis, gamers have long since yearned for a great city builder. Cities: Skylines is the game for those today who want to have full control of a virtual city, where you can act like a mix between a mayor and a god.
Unlike some of the previous city building games, Cities: Skylines does not require an online DRM component. This means that you can play Cities: Skylines in single player mode without an internet connection. This feature potentially makes Cities: Skylines already better than its predecessor SimCity by Maxis which forced gamers to go online. With Cities: Skylines, players have more freedom to build and grow their dream city.
When you start playing the game, you begin with a small, empty area of land that you're meant to develop. You simply start off with the nearby natural resources and a highway. Before you erect any buildings, your first priority will be to pave new roads and create a network of water grids and power grids. Constructing this initial infrastructure for your city is very enjoyable and easy to do.
As the base of your city takes shape and the city structures get more complex, a tutorial popup will help you understand how to take important actions. It's not too intrusive or annoying, and the popups come in just at the right moments to make your gaming experience pleasurable.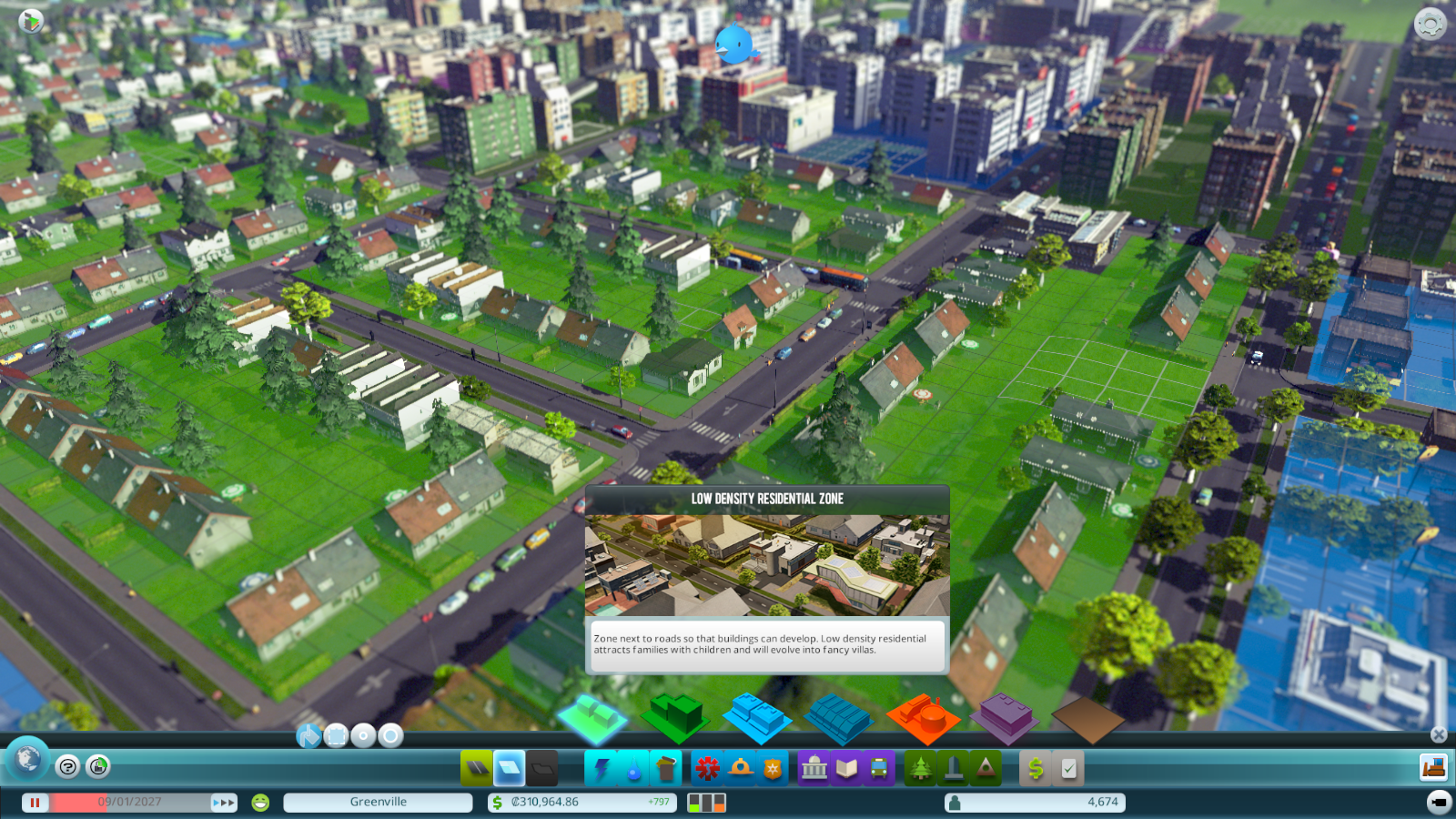 If you play Cities: Skylines, however, you'll need to abide by the basic rules of city building games. Many of these gaming rules and factors reflect real life, such as the pollution effects that industrial zones will have on residential areas, and the increase in traffic will affect transportation movements around your city. Whenever these problems arise, you'll notice that a small icon will display above a building. You can also click each of your structures to check them individually as an information box will pop up to describe any particular issues.
There are also a range of tools in Cities: Skylines that will help you be a great player. The tools at your disposal include charts, statistics, and even social media posts from your city residents. The social media posts come from the game's Chirper feature, which acts very similar to Twitter. Some of the social media posts, called Chirps, can be helpful especially when residents share messages about power outages or other city problems that you can fix. However, over time you may find that the social media posts are filled with irrelevant and repetitive chit chat.
Just like a real mayor who runs a city, you'll have your own budget that you'll have to manage. Make sure to keep monitoring your back account, and prioritize your development projects and city services. If ever you're short on cash, you can also take out loans or you can increase taxes for your city's residents and businesses. While it's useful to have this financial element in the game, Cities: Skylines implements this budgeting activity mainly by tinkering with sliders where you have to balance revenues from taxes with expenditures to maintain and grow the city.

For some gamers, this budgeting feature will be easy to manage so that they can focus on the physical aspects of the game, like building more structures. Whereas other games may complain that the financial aspects are too simple and too superficial. It could be argued that Cities: Skylines misses out on an opportunity to include deeper economic simulations, such as having certain cities specialize in specific industries, as they do in real life. Nevertheless, gamers may still take many attempts to develop a strong budget for the long term, even on the current version of Cities: Skylines.