Telling you the exact definition for the hack and slack genre it is really hard. Now, imagine making a top about the best 15 games of the genre… that is way harder.
Even for those who are die-hard fans of the genre cannot be 100% satisfied when they choose the best video games of the genre. It is going to be very challening for us, but, hey, we love what we do here.
This is our top 15 hack and slash video games ever.
Star Wars: The Force Unleashed 2 – 2010
When you are a Star Wars' fan, the thing you want the most is put both Light and Dark sides of the Force in your hands, take a lightsaber or two, and do whatever you want to do without remorse.
The Force Unleashed 2 took everything from the first game, fixed its problems, and created a more solid an immersive gameplay experience with our clone boy Starkiller.
Darksiders II: Deathinitive Edition – 2018
For those who always dreamt of being a Horseman of the Apocalypse, this is your game for sure. This game follows Death, as he tries to clean the name of his brother War who was the protagonist of the previous Darksiders.
We decided to go with the Deathnitive Edition because is way better, it has better graphics and it was more balanced.
Dynasty Warriors 8 – 2013
Ok, we can argue that the Dynasty Warriors series is the most perfect example of a "true" hack and slash video game, right? I mean, the game is about slashing enemies and you get points by doing that.
Dynasty Warriors 8 is considered the best one in the series, and while staying true to its principles, it elevates the experience and provides the player with more fun than ever.
No More Heroes 2: Desperate Struggle – 2010
The first No More Heroes was a boom when it was released, so when Grasshopper Manufacture decided to plan a second game everybody thought that it would be less amazing than the first one… They were wrong.
No More Heroes 2 is way better than the first game, it exceeded so many expectations that the developers were forced to release 3 No More Heroes more after this one.
Onimusha: Warlords – 2001
We are not choosing the remastered version; we are going with the old school with this entry. Capcom decided to create Onimusha: Warlords after blowing us away with the Resident Evil series and guess what? They blown us away again.
The game put us in the shoes of Samanosuke Akechi as he battles countless demons in feudal Japan. This game is usually considered one of the best PS2 video games ever.
Middle-earth: Shadow of Mordor – 2014
I consider myself a big TLOR fan and while I consider 2017's Shadow of War more enjoyable, it is obvious that Shadow of Mordor is an overall better game.
The game is set between The Hobbit and The Lord of the Rings and you control Talion, captain of the army of Gondor. The sword battles, the ambient, the Nemesis System; Shadow of Mordor is worthy enough to be played by TLOR fans.
Hades – 2020
Hades is a game that appeared from out of nowhere and is now considered one of the best video games of the last 5 years and also was named Game of the Year by several media.
Released in 2020 to both commercial and widespread critical acclaim, Hades is a fast-paced and aggressive roguelite/hack and slash video game where you control Zagreus, son of Hades, who attempts to escape from hell to reach Mount Olympus.
Prince of Persia: The Sands of Time – 2003
Prince of Persia: The Sands of Time is the best video game I have ever played and this opinion remains to this day.
While this game is more focused in the platforming and time manipulation, it obvious has hack and slash influences which are more emphasized in the next entries. This game is considered the father of the Assassin's Creed series and one of the best video games ever.
Bayonetta 2 – 2014
Bayonetta 2 has one of the best gameplays you can ever imagine.
PlatinumGames took everything from the first Bayonetta, the upgraded it and fixed any problem and released Bayonetta 2 to critical acclaim.
Some people sell this game as a Devil May Cry clone but it is not like that; the Bayonetta series is a different monster and one of the best hack and slash video games ever.
Metal Gear Rising: Revengeance – 2013
What happens when a video game series known for its stealth and infiltration changes to hack and slash from out of nowhere? You get one of the best hack and slash ever created.
Hard, fun, exaggerated and action-fueled; this game follows Raiden as he tries to stop company Desperado Enforcement to preserve conflict around the world. It is normal to not be pleased at first sight, but this game is unexpectedly good.
Dead Cells – 2018
Maybe it is a roguelite and a Metroidvania more than a hack and slash, but there is no denying that the thing you do the most in this game is hacking and slashing your way throughout the game. Dead Cells sends you to a labyrinthic world spanning 13 levels with enemies and bosses.
This game reminds me to Salt & Sanctuary, but this is way more fast-paced and abrasive.
Nier: Automata – 2017
Another PlatinumGames entry. While most of the people doesn't know that the first Nier was released back in 2010, it was Nier: Automata that made the series popular and that was thanks to the protagonist 2B and the amazing gameplay.
Nier: Automata's open world gives the player the liberty to explore this amazing and detailed world and landscapes. There is an anime too, which you should definitely check out.
Ninja Gaiden Black – 2005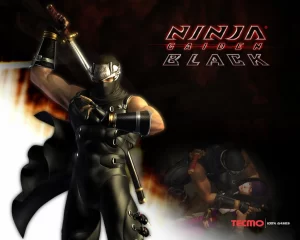 Ninja Gaiden Black is the response of many complaints about how has hard was the original Ninja Gaiden. But despite Black having an easy mode, it received more acclaim than the original.
A true hack and slash game, it put us in the shoes of ninja Ryu Hayabusa in his quest to avenge his slaughtered clan. Mastering this game is hard, it is a challenge, and that's why is one of the best.
Devil May Cry – 2001
I had a hard time picking between this and Devil May Cry 3, but at the end the original was way better. Originally conceived as Resident Evil 4, the original Devil May Cry had the best tone of the series, after this one, nothing was the same.
The game was hard but it wasn't unfair, the gameplay was excellent and Dante was groundbreaking in his debut. One of the best video games ever.
God of War 3 – 2010
The God of War series is so universally acclaimed that any of the games could be placed in this position. But we decided to go with the best of the bunch, God of War 3.
God of War 3 is the most perfect hack and slash ever made, and of course one of the best video games ever. Santa Monica Studio took the perfection from previous God of Wars and took it to a whole new level with this one.
GoW1 was great, GoW 2 was amazing, and then you have GoW 3: a masterpiece.