Whether you're settling down for a session of FIFA or COD, the chances are that you're going to be there for a while so you want to be comfy. While an old beanbag or sofa might suffice, having a gaming chair will make the whole experience that little bit more enjoyable.
But what factors should you consider when looking for the holy grail of gaming chairs? A lot of it is down to personal preference but there's some key aspects to consider including the position of your TV and the space you have available for your new throne. Here's a look at three of the best gaming chairs for gamers and why they're held in such high esteem.
A Crucial Difference….
Just before we introduce a rundown of the best gaming chairs, it's worth pausing for a moment to point out that an office chair simply won't suffice. A quick google for gaming chairs might return lots of results that are just well-padded office chairs; don't be fooled by the suggestion that these are one and the same thing.
For some people, an office chair might do a decent job for a while but once you try out a true gaming chair for an extended period, you'll never want to go back… Gaming chairs are specifically designed for much longer sessions, providing superior comfort and in many cases a wider range of functionality too such as integrated control panels, motion sensors and vibration.
If you get get past the name which is more than a mouthful, you'll find a gaming chair with some seriously sexy features. This doesn't even attempt to pass itself off as an office chair, lurking dangerously low to the ground for players to slide in and out of. The main feature is that it looks and feels like a proper racing chair, complete with gear shifter mount, a combination which isn't seen frequently on the market.
If you like driving simulation games, this chair is a top pick. You'll have the option of mounting the gear shifter on either the left or the right and it provides a stable platform for the steering wheel too (not included). It's compatible with all of the major consoles and it's light enough at 25kg to be easily moved around. As an adjustable unit, the range is broad enough to keep even very tall gamers comfortable; there's no skimping on size. If on the other hand, you're more diminutive you might find that it's a bit of a stretch for the gear mount. This is easily fixed with a plump cushion behind your back, giving you those extra couple of inches necessary without compromising your comfort.
With the back and legs well supported and the sides of the chair holding the body motionless even during the fiercest action, when you finally decide it's time to switch off you'll feel as fresh as a daisy.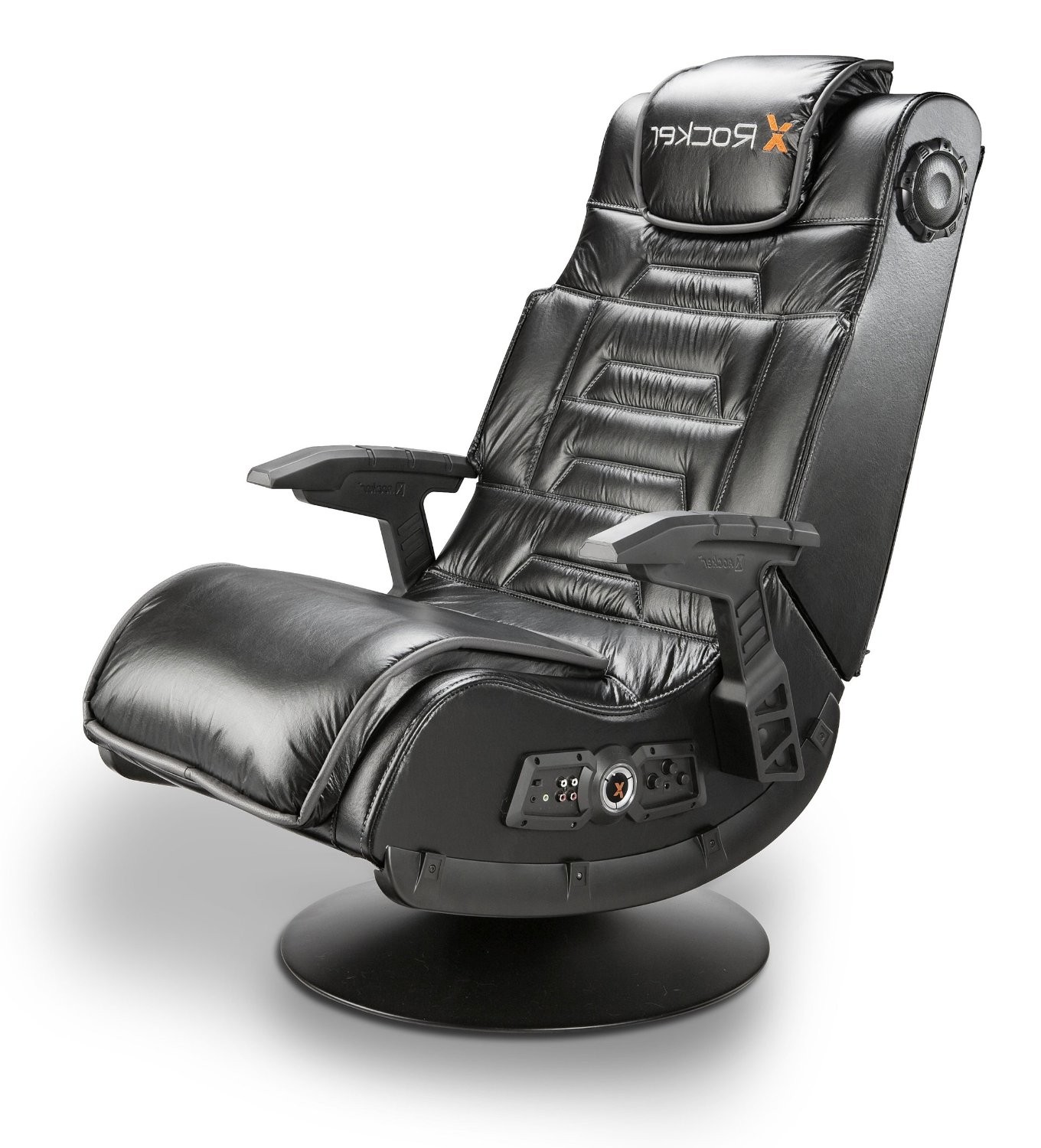 If you've got the room for a chair that offers a sumptuous seat and all the accessories a gamer could wish for, take a look at the X Rocker 51396 Pro Series Pedestal 2.1. Comfortable and fully functional, this gaming chair offers an immersive experience like no other.
With an integrated sound system, this chair allows gamers to enjoy playing on a much deeper level, cleverly using the empty space inside the structure of the chair to create an amplified sound that will vibrate through every bone in your body. The two speakers buried deep in the headrest plus the subwoofer create a surround sound system which is personal to the player and far preferable to an external sound bar. Compatible with a variety of media sources including – crucially! – both the Xbox and the Playstation, you can also hook the chair up to your iPod to utilise the 2.1 AFM Technology. There's a wireless receiver and transmitter which can link up with any RCA stereo output, extending the options even further.
Alongside the technology there's a chair which will weld itself to your body, with PU leather covering making it easy to keep clean and maintain. Although the chair looks low slung it's surprisingly easy to climb in and out of and you'll be much further from the floor than some of the true rockers. Nevertheless you'll still have the same type of motion as you can swivel and tilt, courtesy of the pedestal base. The only flaw in an otherwise immaculate design is the lack of a recline function, but with so many other adjustable settings you'll barely miss it.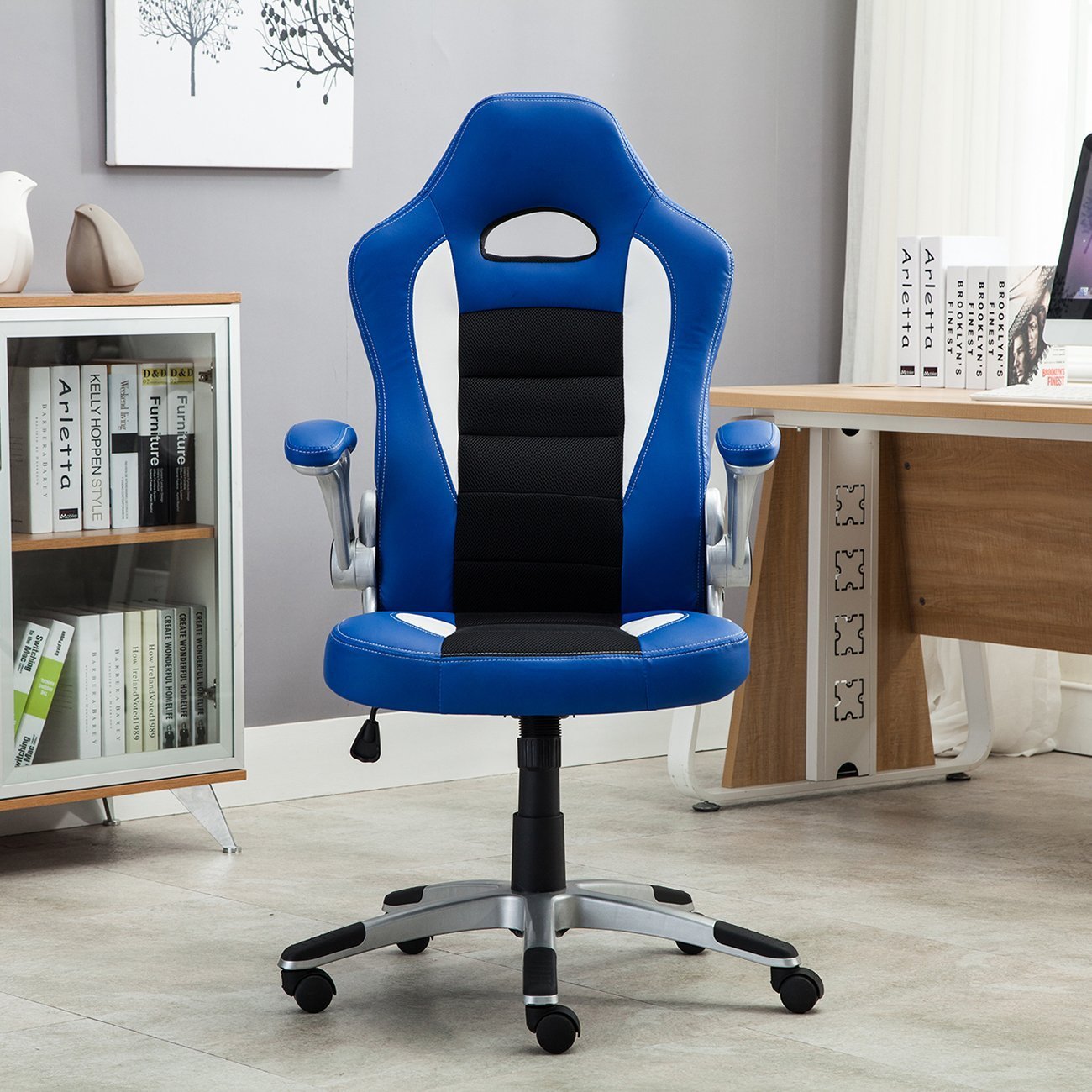 Not all gaming chairs have to look weird and wonderful as this gaming seat could easily pass as a simple office chair if you only gave it a passing glance. However, on closer inspection you'll realise that this is no basic swivel seat but a chair which has some great ergonomic features plus a very modest price tag.
The main of this chair is all about comfort and with a bucket design seat, you'll find it difficult to argue. Ergonomically sculpted for maximum effect, the chair is like that you'd find in any racing car, with a bucket seat for players to sink into. Casters, 360º swivelling plus flip-up arm-rests mean that this chair is practical as well as comfortable. Moving the arm-rests into an upright position allows the chair to be moved closer to a table and when they're in the horizontal position players can enjoy their thick padding. Both the height and the tilt are adjustable while the spine remains supported at all times.
The PU leather covering is hardwearing and functional and covers generous padding in a design that won't beak the bank. Suitable for the vast majority of users and an economical choice too, there's only factor that needs careful consideration. The Belleze is not the ideal choice for gamers who are larger than average but for the majority of people it's extremely comfortable for the long haul.
For the latest information on gaming chairs visit www.allbestgamingchairs.com where you will find the latest reviews.