When we think about Christmas / holiday entertainment we are often immediately drawn to movies and tv shows. After all, this is where the bulk of the experience lies, isn't it? Of course, there are also specific video games which also do an excellent job of putting you in the spirit of the season. Each one of the titles on this list does this in its own way of course, some perhaps better than others. Look, no one is trying to say that these are the most fantastic or awe-inspiring tiles here, only that they do a great job of instilling the Christmas spirit (and that's really all that matters, isn't it?) Anyway, without further ado, let's jump right in and explore…
Lastly, we come to "Viscera Cleanup Detail: Santa's Rampage", which is a really unique offering that's based off of Viscera Cleanup Detail. In the original game you work for a company that specializes in cleaning up the bloodbath after space station tragedies (you know, the kind we often face in other games, where space marines are hunted down by monstrous aliens). In this outing however, you work for polar sanitation and have to mop up what's left after a particularly brutal rampage carried out by none other than Santa himself.

If you're lucky enough to still own a Sega Saturn then you might want to undust it and give Christmas NiGHTS a play, that's if you can get hold of a copy, of course. Christmas NiGHTS was a special edition and thus is relatively rare. The game is full of Christmas decoration including snow, mountains, Christmas trees and lights galore. If you don't own a Sega Saturn, which im assuming you probably don't, then you can enjoy a recent re-release of the game in HD, it's called NiGHTS HD, you'll need to unlock the Christmas feature, however – it's available on XBOX 360, PS3 and PC. This Christmas adventure is definitely worth checking out.

If you haven't checked out the zany, weird, yet incredibly fun sandbox title, "Saint's Row IV" then you don't know what you're missing. What many might not realize of course is that there's a Christmas-specific add-on which not only perfectly compliments the holiday season, but also manages to pay homage to Dr. Seuss' "How the Grinch Stole Christmas" at the same time. The bottom line is that it's pretty crazy, funny and among the more fresh and suitable game bits to check out over the holidays. As far as third-person games go, this one offers an incredibly fun and varied plot as well as set of gameplay mechanics. Definitely worth checking out…

Of course, if you're after a more modern and polished experience, "Batman: Arkham Origins" is what you should check out. If you're already gaming then you know that the newly brandished Batman franchise has really upped its game, offering great open world exploration, stealth gameplay, action and storytelling (not to mention, graphics). This title continues onward with that trend, but what makes it special is the fact that it is set during Xmas (hence its inclusion on this list).

If you're into retro gaming at all the title of this one probably caught your attention immediately. "Merry Gear Solid: Secret Santa" is pretty much what you'd expect it to be – a zany indie take that mashes together themes from the MGS franchise with that of the Christmas season. Don't start thinking that this is a low-budget game that isn't worth the time though, whatever you do, because if you give it a shot it will pleasantly surprise you with its charming style.

For the retro gaming crowd who can appreciate classic first-person shooters, there's the "Duke: Nuclear Winter" add-on for the 1993 game, "Duke Nukem 3D". It's basically the same sort of classic experience only with all sorts of Christmas-themed stuff replacing the standard aliens and pig monsters. You even traverse back through many of the classic areas found in the original game, albeit they're different this time around.

Shifting gears, we turn our attention toward a different type of gameplay altogether. Rock Band's "Rockin' The Holidays Pack" is an expansion which adds all sorts of classic holiday-themed tunes to the mix, which obviously makes it a perfect match for the other contenders on this list. Many of the songs might seem to be somewhat obscure to you (but perhaps not…), which is sort of cool too, if you think about it. Specific selections include tunes like:
The Pretenders – "Blue Christmas"
Billy Squier – "Christmas is the Time To Say I Love You"
Barenaked Ladies – "Hanukkah Blessings"
For those who've never played or experienced a "Lemmings" game, here's the gist of it – you are tasked to create pathways which allow you to save the little creatures which emerge at the beginning of every level. Needless to say, they're incredibly cute but stupid and have a propensity for walking right off of ledges if you don't stop them. Lemmings is a very unique puzzle game and even better, it has its own Christmas version. Of course, you probably won't be able to actually purchase this game anywhere, but not to worry, there are online versions as well as downloads out there to make up for that .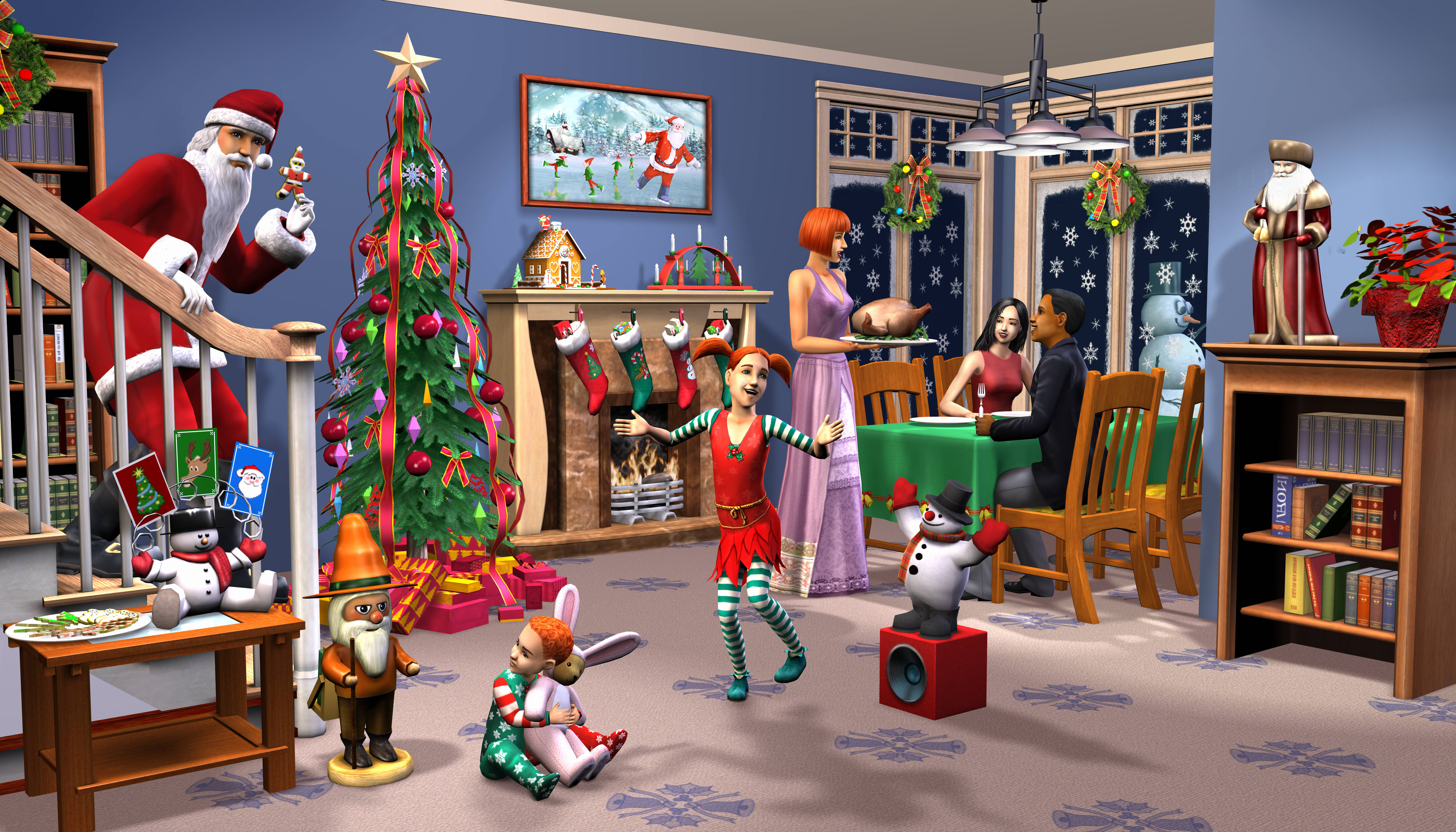 Whichever Sims version you might own, you're sure to find a holiday pack, mods and downloads that allow you to totally transform gameplay into a Christmas environment. Watching your Sims get in the jolly Christmas spirit is sure to get you in the mood too. How will you decorate your home this Christmas? How about costumes? These are things you'll need to decide when playing this seasonal edition of the game. This is definitely one that you shouldn't miss out on this Christmas, if you don't already own it then now is a great time to get it!
Let us know which your favourite Christmas video games are in the comments below.