Gaming laptops that look professional bring a combination of computing power and professional design to the workplace. Most gaming laptops are excellent for office work, but they are held back by their flashy designs. It's hard to maintain a professional demeanor when you have bright LED lights and dragon designs on your laptop.
Fortunately, gaming laptops have developed to the point where you don't have to sacrifice speed or performance to find a laptop suitable for the workplace. A benefit of using a gaming laptop at work is having access to large amounts of processing power, which will make your life at work more manageable. They can easily handle multiple professional programs and games on high settings without any noticeable delay.
Check out these eight gaming laptops that look professional for the office.
ASUS ExpertBook B9
The ASUS ExpertBook B9 has an ultrathin design enhanced by high-level performance. The ExpertBook B9 is finished with a durable magnesium-lithium alloy chassis, giving it a refined and professional appearance. Thanks to the magnesium-lithium alloy, the base model of the ExpertBook only weighs 1.9 pounds.
The ASUS ExpertBook B9 can handle any task in the office thanks to the Intel vPro CPU and the Intel Xe GPU. You can equip this laptop with up to 32GB of RAM, making it easy to play games on high settings. The ExpertBook B9 has a business-friendly design, but it offers the best of both worlds if you're a gamer.
Lenovo X Carbon
The Lenovo X Carbon is an excellent laptop for the workplace that can still keep up with your gaming needs. This laptop is powered by the Intel i7 CPU, the Intel UHD 620 GPU, and 16GB of RAM. The ThinkPad X1 is designed to meet 12 military-grade requirements for durability and features a spill-resistant keyboard. The sleek design of the ThinkPad makes this an excellent under-the-radar option for working in an office.
HP ProBook 450
The HP ProBook 450 is an excellent option for those who want gaming power without standing out at work. The ProBook 450 has a sleek matte silver color with a rough texture that hides fingerprints. The display on this laptop can also open to a full 180 degrees, which is excellent for group work at the office.
The ProBook 450 comes with the Intel i7 CPU and the GeForce MX260 GPU, allowing you to play most video games smoothly. This laptop features modern security features such as a webcam shutter, fingerprint reader, and IR camera.
MSI GS65 Stealth
The MSI GS65 is a stylish laptop that won't immediately out you as a gamer. This laptop uses a unique black-on-copper design, which helps it stand out from the black and red and LED light designs associated with gaming laptops. The MSI GS65 comes with the 6-core Intel i7 CPU, the Nvidia GTX 2060 GPU, and is configurable up to 32GB of RAM.
The 15.6-inch 1090p display comes with a 144Hz refresh rate to help generate clear and vibrant visuals. This laptop does come with an RGB gaming keyboard, which can appear a bit childish for the workplace. However, you can customize the colors to stay under the radar during work hours. The MSI GS65 uses newly designed Whirlwind fan blades to increase airflow and maintain performance even under extreme loads.
ASUS ProArt Studiobook Pro 16 OLED W7600
ASUS ProArt Studiobook Pro 16 OLED is a powerhouse with a lowkey design that will blend in with the other laptops at your office. The device uses a clean matte finish with anti-fingerprint nano-coating, giving it a sleek and minimalist exterior. Despite its professional appearance, the ProArt Studiobook Pro 16 can handle intensive gaming thanks to its stellar specs. The device features up the Intel Xeon® W-11955M CPU and the NVIDIA RTX™ A5000 graphics.
In addition, the laptop offers up to 64GB of high-speed RAM to complement the performance of your CPU and GPU. Best of all, the ProArt Studiobook Pro 16 OLED comes with many quality-of-life features that business professionals will find advantageous. This laptop introduces the ASUS Dial, a physical controller that gives you precise fingertip control in creative apps. The dial allows you to undo actions, change layer opacity, adjust brush sizes, and optimize your creative workflow.
HP Spectre x360
The HP Spectre x360 is a sleek laptop capable of blending in at work and running resource-intensive games. This laptop can transform into a tablet which is excellent for group work situations. Despite the 2-in-1 capabilities, this is a powerful laptop that you can upgrade to include the Intel i7 CPU, the Intel Iris Xe GPU, and 16GB of RAM.
Alienware M15 R2
Alienware is known for its many flashy gaming laptops, but the M15 R2 is a new offering suitable for the office. You might get some looks due to the aggressive silhouette since the cooling block is attached to the rear of the chassis. Other than that quirky visual detail, the M15 R2 doesn't look like a traditional gaming laptop.
You can still feel confident playing your favorite games on high settings thanks to the Intel i7 CPU, the NVIDIA RTX 2060 GPU, and 16GB of RAM. The Alienware M15 R2 features a snappy tactical keyboard, which is great for traditional office work. This laptop comes with a 512GB solid-state drive and a 15.6-inch 1080p display.
ASUS ZenBook Pro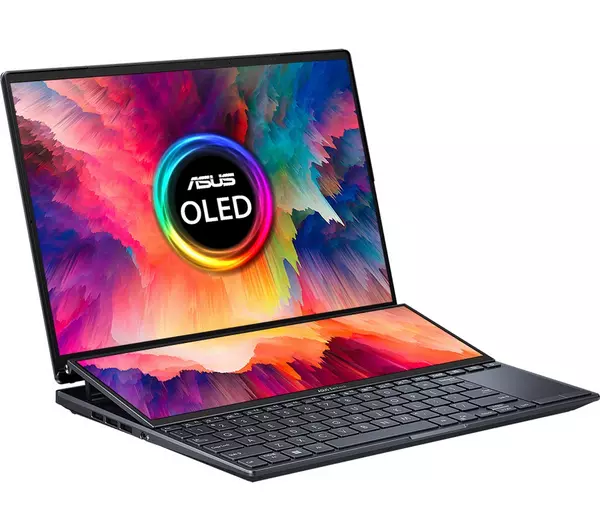 The ASUS ZenBook Pro is a professional-grade laptop with enough computing power to handle your favorite games. This laptop uses the 8-core Intel i9 CPU and the NVIDIA GeForce RTX 3070 GPU for consistent and fast performance. It comes with a sleek, stylish design that both gamers and enterprise users will appreciate.
The ZenBook Pro features a unique secondary touchscreen that you can use for applications to support your work on the main display. This laptop has an optimized design to enhance performance. It uses an ultrafast PCle solid-state drive to ensure consistent fast start-ups and rapid loading of your programs.