Until Dawn is one of the most compelling horror experiences of the last few years. The PS4 exclusive is a loving homage to slasher films and sees a group of teens descending on a house in the woods for a reunion party, whereupon they are, of course, beset by horrors that could be natural or supernatural in origin. If you've already made your way through Until Dawn and you're looking for more games that capture the same feeling, then you're in for a treat (or several), as there are actually plenty of games out there like Until Dawn. Here are some of the best of them!
Created by the same developers as Until Dawn, The Quarry is seen as something of a spiritual successor to the PS4 classic. The Quarry revolves around several teen counselors who decide to spend a night in Hackett's Quarry without adults, without kids to look after, and without rules. Of course, things don't go according to plan, and the teens are quickly fighting for their lives against several assailants. Like Until Dawn, The Quarry changes its narrative and ending based on who lives and who dies. If you're looking for the next obvious place to go after Until Dawn, then The Quarry should be your first port of call.
Another game from Supermassive, The Inpatient can either be played in virtual reality or enjoyed on a good ol'-fashioned PS4 (or PS5 if you're playing via backwards compatibility). It's a prequel to Until Dawn that takes place in the Blackwood Sanatorium several decades prior to that game. You play as the titular Inpatient in the Sanatorium, and you must figure out why you're there and what's going on. It's a VR horror experience, so there isn't too much interactivity on offer, but The Inpatient manages to be a nail-biting and terrifying experience nonetheless.
This is the first in Supermassive's ambitious The Dark Pictures anthology series, which tells several unconnected stories with similar atmospheric trappings and themes. In this one, four college students are seeking a World War II plane out in the South Pacific, but they're quickly captured by pirates and sent out to explore a ghost ship. What follows is Supermassive's usual blend of character-based decision making and abject terror, so if you like the pacing and styling of Until Dawn, you're basically playing a de facto sequel in Man of Medan.
Right now, there are three Dark Pictures games, with a fourth planned to arrive later this year. This second instalment takes place in the somewhat amusingly-named town of Little Hope, which is in Massachusetts (so you should already know what to expect). Once again, protagonists can either survive the events of the plot or die prematurely, leading to different outcomes in the story. If you like creepy psychological horror more than out-and-out gore and jumpscares, then Little Hope is almost certainly the game for you, especially if you're looking for games like Until Dawn.
Here, we come to the final (right now) instalment in the Dark Pictures Anthology series. House of Ashes takes a decidedly less introspective turn than its predecessors, choosing instead to focus on soldiers traumatised by the 2003 Iraq war. Of course, that doesn't mean this is a Spec Ops: The Line-style harrowing tale of man's inhumanity to man; there are still vampires that kill everyone, so that's fun. Once again, you'll find that protagonists can either survive the events of the plot or, well, not survive them, so make sure you're watching closely to make the right decisions for the outcome you want to achieve.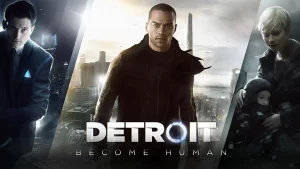 It's fair to say that David Cage's games are polarising affairs. The French auteur developer has created some of the most beloved and most hated games in the world, and they're usually the same titles; Heavy Rain, Beyond: Two Souls, and, of course, Detroit: Become Human. In his latest title, you play as three characters navigating a world in which humans and androids must negotiate uneasy alliances (or give in to outright hostility) and a revolution may or may not be brewing. Cage's characteristic melodramatic writing is on full display here, but if you like Until Dawn's cinematic presentation, then Detroit: Become Human will appeal.
You are a young cat girl (an actual anthropomorphic cat girl, not…well, yes) who has dropped out of college, and you return to your hometown in order to confront some of the ghosts of your past. Along the way, you may actually have to confront some real supernatural horror as well (or not, who knows?). Night in the Woods should appeal if you like Until Dawn's more introspective character-driven moments, and although it doesn't have anywhere near as many choices, it does still have Until Dawn's beautifully detailed environments to explore, albeit rendered in cutout-style 2D rather than full 3D.
Much like Until Dawn, Oxenfree is influenced by classic horror movies, but it tells its story in a more abstract, elliptical 2D indie visual style rather than the full-budget 3D look Until Dawn goes for. A group of friends arrive on an island for a party and unknowingly involve themselves in some spooky goings-on, and it's up to you to unravel said spooky goings-on, all the while delving deeper into the friendships of the central group. Oxenfree is compelling from start to finish, and with a sequel on the way, now is the perfect time to catch up on Night School's game.