It's been what can only be described as a banner year for Nintendo so far. The Legend of Zelda: Tears of the Kingdom, which launched back in May, has proven to be one of the studio's biggest hits of all time, racking up a massive number of sales in its first few days on release.
The rest of the year is unlikely to hold anything quite as epochal for the Big N, but that doesn't mean there aren't any surprises up Nintendo's sleeve when it comes to the Switch, or indeed any of Nintendo's third-party partners. Let's take a look at the best Nintendo Switch games landing in August 2023.
Unlike many of the other wrestling offerings available out there right now, WrestleQuest leans more into the RPG side of things. You're not going to find a super-accurate simulation of wrestling here, but you will find a game that's very much true to the melodramatic spirit of the sport. In WrestleQuest, your goal is to create your very own wrestling rookie, then take them all the way to the big leagues, dispatching a series of larger-than-life foes as you go.
30XX (August 9th)
Did you play the rather decent 2017 platformer 20XX? If you did, you'll know it was a roguelite affair heavily inspired by the classic Mega Man games, particularly Mega Man X, but you might not know that a sequel is on the way. Technically, 30XX has been in Early Access for quite some time, but it's finally hitting its 1.0 release in August, bringing hundreds of weapons and powerups to collect, as well as a co-op mode so you can check the game out with your friends.
Moving Out 2 (August 15th)
The original Moving Out is one of those games that's perfect to play when you've got friends over and you want to have as chaotic a good time as possible. Moving Out 2 promises to offer more of the same excellent multiplayer action, complete with assist modes and accessibility options so that nobody has to feel left out of the party. To put it simply, if you loved Moving Out on Switch, then you should check this out as well, and if you haven't played Moving Out, there's still time to catch up!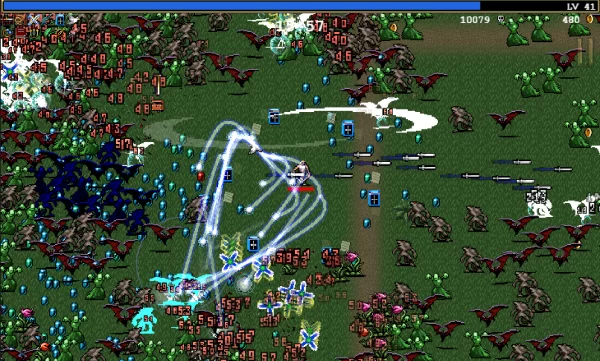 Vampire Survivors is one of those games that only comes along once in a blue moon. Marrying the campy Gothic aesthetic of Castlevania with an effortlessly addictive arcade-style gameplay loop, Vampire Survivors gives you one simple task: survive. You'll be fighting off hordes of enemies armed with increasingly ridiculous weaponry, and you won't actually have to fire any of them yourself; you'll simply be evading, upgrading, and hoping the monsters don't overwhelm you.
Of all of gaming's most iconic properties, perhaps the saddest demise we've ever seen is that of Jet Set Radio. Nevertheless, this funky graffiti-focused franchise remains in gamers' hearts, and it's clearly still in developers' crosshairs too, because Bomb Rush Cyberfunk is essentially a spiritual successor to Sega's excellent urban paint-'em-up. Tag walls, avoid the cops, grab collectibles, and explore the city of New Amsterdam, all while discovering who cut off your head and why (yes, really).
The first Blasphemous was both an excellent game and a great argument for the creative minds behind it receiving some kind of religion-focused therapy. Blasphemous 2 will return to the same penitent themes that made the original game such a success in August, bringing with it lots of new levels to explore, new enemies to slay, and new weapons to try out. If you're hankering for a new Metroidvania world to wander, then the (admittedly pretty messed-up) non-linear world of Blasphemous 2 should fulfil that remit nicely.
Rhapsody: Marl Kingdom Chronicles (August 29th)
This double-pack marks the first time that the JRPGs Rhapsody II and Rhapsody III have been released in the West. The second game tells the story of Kururu, the daughter of Rhapsody protagonist Cornet and her partner Ferdinand, as she embarks on her own musical adventure. The third game expands the scope to tell the story not only of Kururu but also of Cornet and her mother, Cherie, each of whom has their own trials and tribulations to overcome.
Sea of Stars (August 29th)
It's a veritable RPG treasure trove! August 29th is a great time to be an RPG fan if you're a Switch owner. Sea of Stars pays homage to JRPG greats like Square Enix's timeless Chrono Trigger (no pun intended), and although it was developed by a Western studio, it looks to have been created with exactly the same love and attention that turned that game into such a beloved classic. Hopefully, the excellent turn-based combat and memorable characters can make this a sea worth sailing.
If RPGs aren't your thing, then you may get a kick out of Samba de Amigo: Party Central, the third of three games on our list launching on August 29th. It's a continuation of the classic Samba de Amigo rhythm-action series, and you'll once again be shaking your maracas to a series of hit songs. Whether you're playing in single-player mode or going head-to-head with friends and family, Samba de Amigo: Party Central promises to be a raucously fun experience on Switch.