There really is no topping a real-life casino. The roar of the crowds, the clicking of the roulette wheels, the glitzy glamour…real casinos have no equal. If you ever find yourself in a position to go visit a casino, or a place where they're highly concentrated, you should seize that opportunity.
Still, online casinos and video games take a pretty good shot at matching the atmosphere and rewarding gameplay of their real-life counterparts. While a video game is never literally going to feel like a casino, there are a good number of games out there that get pretty close. Here are the best casino games you can play on each gaming platform right now.
Online slots – PC, Mac, Linux
When it comes to simulating the casino experience, the key word is "verisimilitude". Any attempt to get close to a brick-and-mortar casino should, in essence, offer the same comforts and thrills as that casino. That means as little distance between you, the player, and the games as possible. The best way to achieve this is to seek out a great online slots provider.
There are plenty of video games you can play that simulate real casinos, but in our experience, none of them feel quite as authentic as a simple online slot system. These sites have the added bonus of actually paying out real money, too, which is something most console and PC casino video games can't boast.
Even so, it can be very difficult to know where to begin when it comes to online slots. That's why you should find yourself a dependable and trustworthy website which compares online slots and tells you which one to go for based on important parameters like payouts, bonuses, and customer loyalty schemes. Head over here to get started with online slots – we think this is the closest you'll get to a real-life casino outside of Vegas.
Prominence Poker – PC, PlayStation 4, Xbox One
This game may not offer players the chance to win real money, but it's about as close as you can get to the underground poker lifestyle without actually taking part in a game. Prominence Poker comes to us from US-based developer Pipeworks Studios and legendary Italian publisher 505 Games. With a pedigree like that behind it, one would expect Prominence Poker to stand head and shoulders above its competition.
Happily, that's definitely the case. Prominence Poker boasts some of the best visuals in gaming, let alone in casino gaming. Its murky, muddy environments evoke the dangerous high-stakes world of underground poker perfectly. Surprisingly well-realised character models go together with fluid, smooth animation to create a highly realistic and immersive poker experience.
Of course, all that would be nothing without the gameplay, and Prominence Poker delivers on this front too. The fleshed-out career mode sees players rising through the ranks to challenge the mysterious Mayor. It's rare enough that a casino game features a career mode, let alone one this well-written and well-rounded. Add online multiplayer to proceedings and you've got an infinitely replayable poker experience that should be proud to take its place among the best casino games available.
Vegas Party – Nintendo Switch
Those looking for a realistic casino game should steer well clear of Vegas Party. If, however, you're in the market for something a little more fun, a little less realistic, and a little more…well…video game-y, then Vegas Party will more than deliver on those expectations.
Vegas Party takes the form of a madcap race around 17 highly stylised casino environments. Players must compete with one another to be the first to reach the end of the Strip. Along the way, they'll play 10 well-known casino mini-games including Baccarat, Texas Hold'em Poker, Blackjack, and Roulette. There are also some fantastical elements in the form of natural disasters which threaten to unseat players from their ill-gotten thrones.
All in all, Vegas Party isn't going to replace the likes of Prominence Poker or faithfully-recreated online slots for your casino experience. Nonetheless, with a few friends and only one Nintendo Switch console, Vegas Party can offer a frequently hilarious and surprisingly deep multiplayer casino party game. Everything's better with friends!
The Four Kings Casino & Slots – Xbox One, PlayStation 4, PC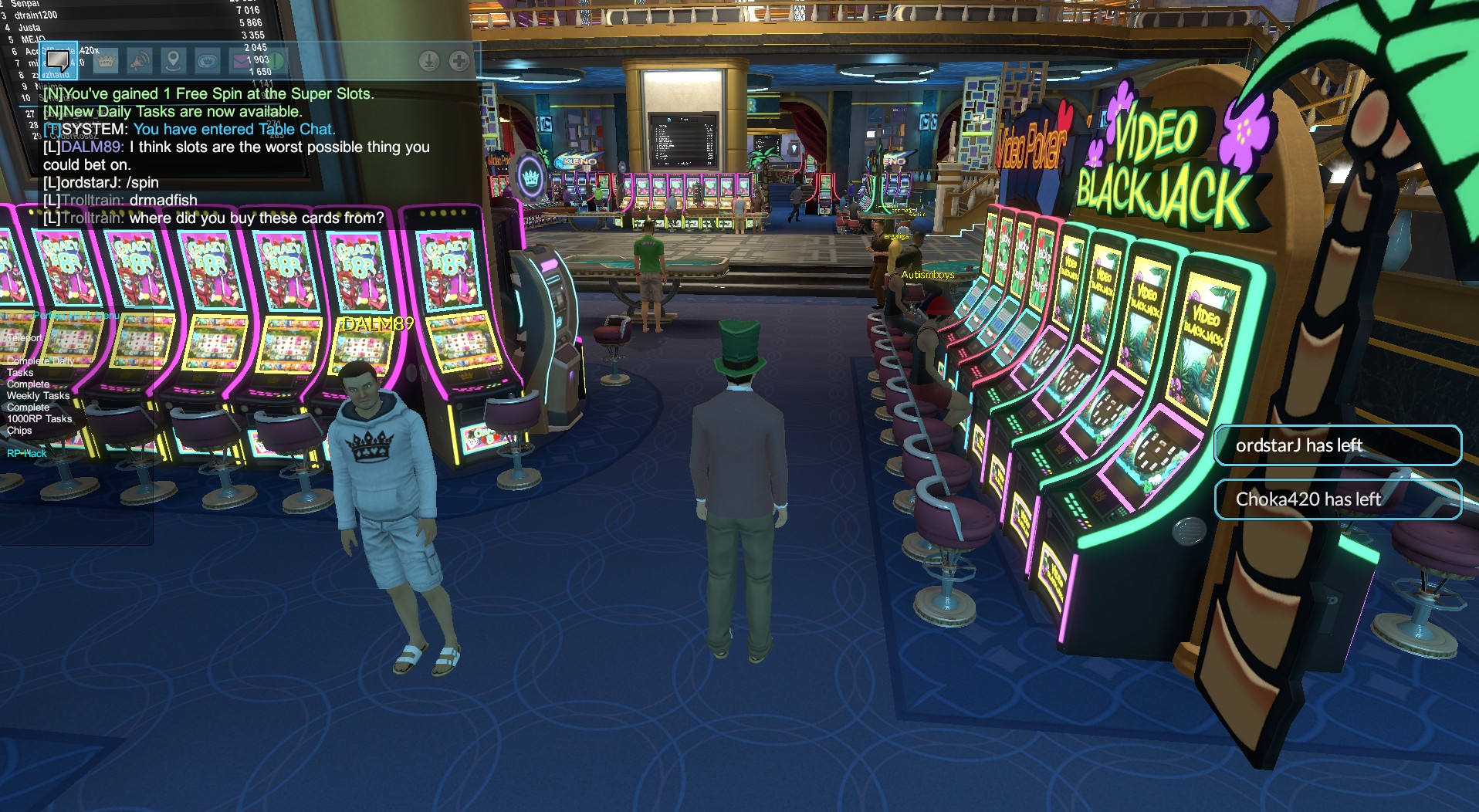 This one takes a slightly more interesting approach to the world of casino gaming. Rather than simply offering a faithful recreation of the games themselves, The Four Kings Casino & Slots aims for a fully-realised social gaming experience. It's more akin to a multiplayer online RPG like World of Warcraft than a standard casino game, albeit with the traditional casino disciplines rather than battling dragons with swords.
The most striking thing about The Four Kings Casino & Slots is the way in which it lets players create and fully customise their character. This digital avatar will represent you in all casino games and stand at the table just as you would. In this way, The Four Kings Casino & Slots actually feels more realistic than some of its higher-fidelity counterparts. The visuals are a tad more cartoony here than elsewhere, but what matters is gameplay.
Just like Vegas Party, The Four Kings Casino & Slots delivers when it comes to casino games. If you love a particular game, it's likely to be represented here. Players can enjoy slots, poker, Baccarat, Craps, Roulette and more. There's also a choice between low- and high-stakes tables, with the latter offering better in-game rewards for your avatar. The top ranked leaderboard players at the end of each season also receive exclusive bonuses.
Poker Night at the Inventory
This one's strictly for PC players. Poker Night at the Inventory goes more for a stylised aesthetic than out-and-out realism, but it doesn't suffer for it. Developed and published by ill-fated adventure game studio Telltale, Poker Night at the Inventory collects some of your favourite characters from the gaming pantheon and asks the all-important question: what if these guys played poker together?
Poker Night at the Inventory features four characters: the Heavy from Team Fortress 2, Tycho from the Penny Arcade webcomic, Max from Sam & Max, and Strong Bad from the Homestar Runner web series. All of these characters are stunningly well-animated, each with dynamic tells to look out for and exploit in order to win the big (virtual, unfortunately) bucks.
All of this is wrapped around an extremely solid Texas Hold'em game that holds up very well indeed. Animation is smooth, dialogue is well-written, and gameplay is great; this very much feels like an accomplished game of poker. AI is responsive but never unfair, and it always feels like the stakes are high even as the characters defuse tension with their banter. All told, this is a wonderful little gem that shouldn't go overlooked by casino gaming fans.