If there's one thing that's important while you're gaming, it's good audio quality. Bad sound can be the difference between being fully immersed in a gaming experience and just hearing a tinny, poorly-mixed mess, and that can seriously impact your enjoyment of a game. The improvement when you move from an in-built speaker system to a dedicated pair of speakers or a great headset is practically immeasurable, which is why it's so important to make sure the headset you're using is top-quality.
Unfortunately, much of the time, you'll have to pay premiums to match the audio you're after, but that's increasingly not the case anymore. Budget offerings used to mean compromising on sound quality, but nowadays, you can get hold of excellent headsets for pretty much any platform without breaking the bank. All of this means the Gioteck TX70 wireless headset is entering into a very crowded market, so can it prove it deserves to tussle with the giants?
The first thing to note is that although the TX70 is designed to work with the PlayStation 5 (as well as PS4 and PC), it's fully compatible with other systems as well thanks to the included 3.5mm cable. That means you can use it with your Switch, as well as Xbox consoles and even your smartphone. Make no mistake: Gioteck wants to position the TX70 as a daily driver for all of your gaming devices, so even if you don't have a PlayStation, you can take advantage of its features.
Perhaps the most important aspect of a headset – besides its audio quality, of course – is comfort. As a gamer, you're going to be wearing this headset for extended periods of time, perhaps even several hours per session. That means the perfect headset is one you don't even notice after a few minutes, and happily, that's exactly the quality the TX70 has. While the build is a little bulky, it didn't take long for the headset to feel comfortable.
With that said, this isn't the highest-end headset in the world, and over a good few hours, it did start to weigh just a little heavy on our heads. That's not to say it won't do fine for prolonged gaming sessions; at no point did it become uncomfortable or irritating to wear. It's not the lightest headset ever made, though, so it doesn't completely fade into the background like some pricier alternatives might. However, for the money, the fit is perfectly adequate and even great at times.
Aesthetically, the TX70 is something of an odd duck. Its parallelogram-style ear cups won't be to everyone's tastes; if you like understated, classy tech, you won't necessarily find it here. This is loud gamer stuff, suitable only for those who like their gear bulky and present. It's entirely a matter of personal taste as to whether that particular aspect will appeal to you, but we're big fans of the visual design on the TX70. Again, though, your mileage will vary in this regard.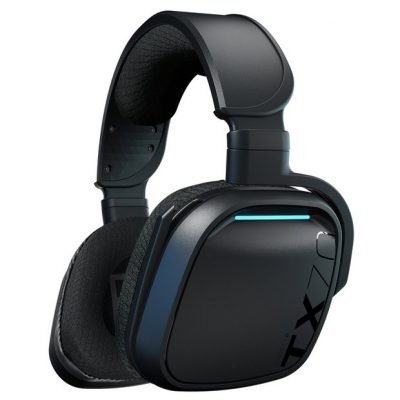 What can't be disputed about this headset is the excellent sound quality. Gioteck makes a big deal of the headset's enhanced 50mm drivers, and it's certainly more than loud enough to block out most ambient environmental noise (although it couldn't quite eliminate the ever-pervasive sound of roadworks while we played). There's also an optional bass boost to supercharge the low end, and we found that was most prevalent and identifiable when playing more cinematic games like Call of Duty: Black Ops Cold War.
All-around audio quality is also great. While the TX70 can't compete with higher-end alternatives from the likes of SteelSeries and Logitech, it's not trying to, and it more than matches offerings from those companies in its weight class. The sound is punchy and detailed, delivering the trebly pings of bullet ricochets with just as much confidence as the earth-shaking rumble of tank treads moving across an abandoned town. You won't want for detail, even if the audio does occasionally lack subtlety.
One area in which the TX70 will certainly divide opinion is the aforementioned bass boost. To put it simply, when we switched it on, the bass dominated all other frequencies, making it hard for us to leave it on for an extended period. The bass on the standard TX70 EQ setting is more than enough; we can't really imagine a situation in which the bass boost would be strictly necessary, but if you really can't get enough bass (and you've somehow blown out the upper end of your hearing), then by all means experiment with it. We'll just be over here with the regular settings.
As a wireless headset, the TX70 also needs to fulfil requirements in terms of battery life and signal strength. Happily, it managed to pass both tests during our time with it. Gioteck touts the headset as having a 15-hour battery life, and we came close to that figure without needing to charge it (although our usage may well be heavier than most). When we did charge, it was ready for action again in around an hour or two, so you won't be waiting long to get gaming again.
Signal strength was also excellent. No matter where we were in our gaming room, the TX70 had absolutely no problem delivering uninterrupted audio, and we were even able to get a decent signal elsewhere in the house as well. There's pretty much no situation in which you'll need to keep your headset on when you're miles away from your console or PC, so if you're worried about intermittent signal cutouts or audio drops, you needn't be; this is a very stable headset.
The final area in which the TX70 impressed us was in microphone quality. When we played Destiny 2, our teammates never complained once about our audio quality (although there were one or two grumbles about noise in the background, which suggests noise cancelling could be better). If you want to be heard with crispness and clarity, the TX70's mic will deliver on that front. This really is a powerhouse of a headset for the price.
As a daily gaming driver, the TX70 more than delivers on almost every front. It's not going to challenge its more expensive cousins on audio quality; the sound is big and boomy, but it's not particularly nuanced or detailed. However, it does have masses of functionality, a fun aesthetic, and an incredibly reliable battery. If the TX70's price range is where your wallet is at right now, then there really isn't a better option on the market than this one.
Official site: Gioteck.
Thanks for supply of the gear: Virtual Comms.