Something I really like about Brawlhalla is that the game is free-to-play and doesn't force any pay-to-win strategies onto the players. But also, I definitely see quite a few cosmetic items that might indirectly (but super positively) affect the general experience of playing Brawlhalla. Not only will you enjoy the fights a bit more, but also you will have extra motivation for boosting your fighting skills.
Stuff to buy in Brawlhalla
It would be nice to list specific items here and say – buy these, and you will get better at Brawlhalla. That definitely doesn't work like this, so I should give some explanations on what you actually need to have in your inventory.
Brawlhalla Legends – buy them all
You can have new free characters each week and slowly explore all the roster. It's not how you play a fighting game. After the first acquaintance with different Brawlhalla weapons and Legends who carry those Axes and Swords, players need to choose one-two characters to concentrate on. Playing one Legend will allow you to go deeper into their abilities.
The game has the option of purchasing Legends for the internal Gold. On the one hand, it's awesome. You complete the internal missions, login into the game daily, and participate in multiplayer fights to earn as much as possible, purchase a Legend of your choice and a couple more to expand your arsenal. The problem is:
it's difficult to choose your best Legend after only a week of playing it. You need significant experience with different characters to make this choice;
those Legends are rather expensive in Gold, and you need to put much effort to get everyone (especially new characters, which are more expensive).
Purchase all the Legends in one pack, and that will be an investment in your freedom to play anyone you want, anytime you feel like doing so. After that, feel free to spend time for deep learning – for example, to explore this Brawlhalla Combo Guide for any character/weapon you consider making your main.
Crossover Skins – buy those you adore
The choice here strongly depends on your personal preferences. Brawlhalla has many famous characters – choose those you love outside the game, and they will motivate you to play more (and therefore, play better).
The biggest competitor of Brawlhalla, Super Smash Bros., has popular characters in the default roster, so Smash players easily have an emotional connection with their fighters. It's not that easy with unique Legends you never meet outside the game.
Crossover characters are just skins; they do not add much to the actual performance in Brawlhalla matches. But they can add a lot to your emotional experience. For example, a fan of Adventure Time purchases Finn, and suddenly they are much eager to spend hours playing Jhala with that skin.
Making Brawlhalla special in such a way is essential for many people. You should create your comfortable environment.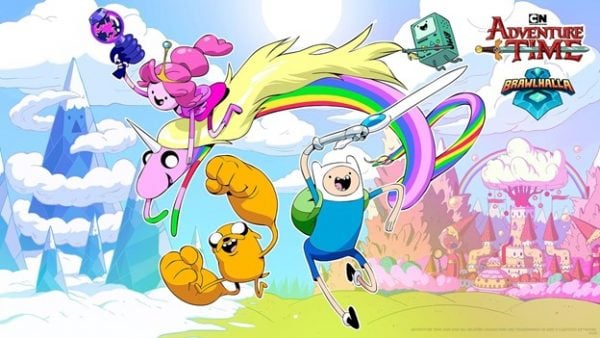 Weapon Skins – to reflect your personality
The main thing for other people to build their opinion on you in an online multiplayer game is your behavior and your playing skills. But there are many other ways to demonstrate who you are – that's one of the purposes of cosmetic items.
Brawlhalla has so many cosmetics! It's impossible (for most players) to buy all of them. I recommend paying special attention to the weapon skins. They are the second central object during the matches, and the opponents will notice what you are fighting with.
Postpone such purchases to the time when you are sure about your main/secondary Legend. And even after that, give yourself some time to make a different decision. The choice of weapon skins in Brawlhalla is impressive. You don't need to spend money on Bow skins to then play a Legend with other weapons.
Take your time selecting worthy weapon skins. Consider them a reflection of your unique in-game image. Purchase something that really represents you in one way or another.
This investment is crucial for building your online reputation. You become part of the community – and that's a secret to experience Brawlhalla on a new quality level.
KO Effects, Podiums, Emotes, Sidekicks, Avatars – not essential, so be very picky
Creating an in-game atmosphere is an important role of cosmetic items in Brawlhalla. And in fact, all of them do this, including a wide selection of additional elements that participate in the fighting process not so often.
For example, your KO Effect. It's great to have something custom here and create a specific spirit around your matches. But that effect will appear on the screen significantly less than your Legends and weapons.
Sidekicks bring your character back to the fighting ground. Podiums emphasize your style in a short after-match period. Emotes give you a way to express your emotions during fights. Avatars – you know, they represent your account in a small square icon.
All of this stuff is cool and might be worthy of investment. Still, it's better to be pickier here than with Legend and weapon skins. The choice is vast, with too many awesome items. Limit your expenses in this category to some reasonable amount and then purchase such cosmetics mindfully – to create an in-game atmosphere you really enjoy.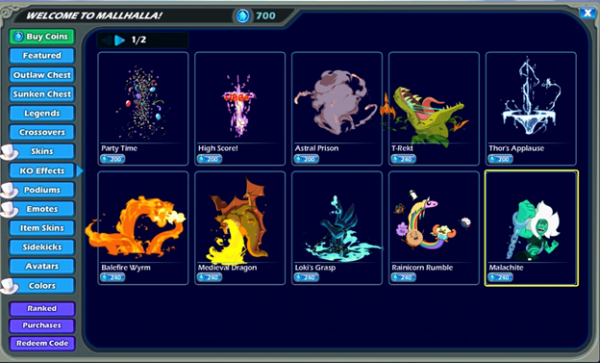 Stuff not to buy (in most cases)
Ok, this article about essential purchases wouldn't be full if I skipped recommendations on what not to buy.
Chests
Some players have a strong belief in the power of randomness. They pay for loot boxes and hope to get something valuable from the random drop. Yep, it is very similar to gambling, and usually, it's a good way to quickly get rid of your money.
Brawlhalla is not bad regarding loot boxes. You purchase a chest, and skins there are all unique and cool. Chests are ok when you are a loyal fan of the game and want to create a vast collection of cosmetics. But for most players, they are unnecessarily risky. It would be a much better idea to spend more Coins but get a particular item you want to use in the game.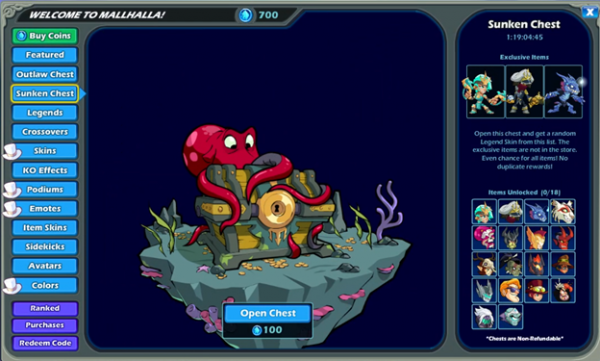 Stuff to buy for Gold
What should you spend the internal Gold if you already have all the Legends purchase?? The game has cosmetics to buy for the internal currency.
Colors
These items are kind of skins for your Legends, so they could play the role of essential purchases: build emotional connection, reflect your personality, and create an in-game atmosphere. It's a great idea to fill your inventory with items that you have bought for Gold obtained in many fights?
?olor schemes for your Legend give players a clear goal to strive for and allow them to prove dedication to these platformer fights. Some of them can be gotten only for a limited time, while others only through watching official esports streams).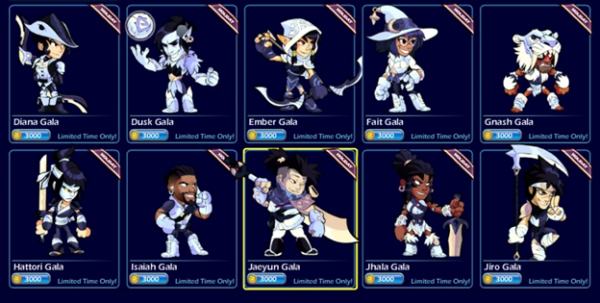 Buy or not to buy… The game is free-to-play and doesn't require any purchases. By spending money (wisely), you customize your Brawlhalla experience and create the best circumstances for you to return to the fights more often and get better at them. These aspects themselves fully justify your decision to buy cosmetics.
And also, let's not forget another important factor – you directly support Brawlhalla. It's a game as a service, and the developers need regular income to keep adding content and care for the game's future. That's obviously not your responsibility to pay for someone's business/creativity. But if you enjoy the game, why not support it?
The last thing I would mention here is Brawlhalla Battle Pass. It's a great purchase too as you have both cosmetics and motivation to fight for them. After you've created the basic set of essential purchases, you can continue supporting the game by purchasing the Battle Passes for new seasons.