Music is an integral part in our lives and it is also a very important aspect in video games. Going from "bleeps and bloops" to orchestral pieces of arts, the soundtrack in a video game is something that adds a lot of weight when you are playing or just reviewing a game. Sometimes they are so majestic that they make you remember a boss fight, a cutscene or even just the beginning of the adventure.
Today we will rank the 15 best video games soundtracks, so let's begin.
Bloodborne – SIE Sound Team
Sometimes, silence itself is a great soundtrack and silence plays an important part in this video game. But not everything is silence, don't worry. Because when you are playing one of the game's most iconic moments you will some ominous chanting and choirs that will make the darkness more haunting than before.
Bloodborne's OST is insanely good and dark and sometimes will leave you wondering if you are still sane or not.
Hollow Knight – Christopher Larkin
Hollow Knight is one of the best indie games ever made, and while this video game shows you an adorable-designed knight, both the story and the setting is very obscure and dark. And not only that, there is a tremendous amount of feeling around and with the help of the OST created by Christopher Larkin, that feeling is even bigger and melancholic than before.
I hope that the sequel, "Silksong", will have a great OST like this one.
DOOM – Mick Gordon
If you look for the meaning of "perfect pairing" you will find the DOOM video game with the soundtrack created by Mick Gordon. We already know that 2016's DOOM is great, but the OST makes it even better than before, it pumps you big time and makes you more dangerous than ever. 8-string guitar solos, testosterone-charged drums and an industrial rock so good that will make you go back to the 90s.
Hotline Miami – Various Artists
Hotline Miami is a game that I was forced to play, and I want to thanks my friends because this video game is one of the best video games I ever played and obviously, those "Drive" influences get stronger every time you heard the OST which is plagued with synthwave songs.
This OST, which features a lot of artists, is already considered a cult classic that is still relevant today despite the years.
Tony Hawk's Pro Skater 2 – Various Artists
While I personally prefer Pro Skater 1's soundtrack because that game played a big part of my childhood, Pro Skater 2's soundtrack is much better than its predecessor by a mile. First of all, is a little bit weird to add to this list a soundtrack filled with non-original songs, but who are we to judge?
Rage Against the Machine, Anthrax, Papa Roach, Millencolin, Public Enemy… This soundtrack is the skater's dream.
Halo 2 – Martin Salvatore, Martin O'Donnell
Halo was responsible for redefining the first-person shooter genre, and also its soundtrack redefined what a soundtrack should be. Halo 2 took everything from Halo 1 and turned everything to 11 out of 10. Both Michel Salvatore and Martin O'Donnell returned for this soundtrack and while they composed almost everything, the soundtrack also featured guitar god Steve Vai and bands like Incubus, Hoobastank, and Breaking Benjamin.
Persona V – Shoji Meguro
The Persona V's soundtrack is just as good as the game, I am not kidding you. This soundtrack created by Shoji Meguro is the perfect example of thinking outside the box and sometimes that is exactly what you need. This soundtrack is a unique mix, it has funk, opera, pop, rock, jazz, and even 8-bit video game music
It sounds a little bit weird when you think about it, but remember: this is thinking outside the box.
The Legend of Zelda: Ocarina of Time – Koji Kondo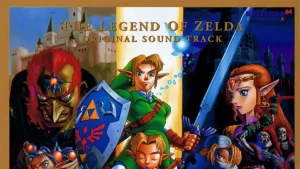 This is exactly the first time you will see master Koji Kondo in this list. In this case, we will talk about Ocarina of Time's soundtrack. Obviously the, unofficial, best video game ever made must have a God-tier soundtrack, and what I like the most about this OST is that is divided in two: the happy and joyful soundtrack for young Link and the somber and more serious soundtrack for older Link.
Grand Theft Auto: San Andreas – Various Artists
Widely regarded as the best GTA of all time, San Andreas is usually considered the best video game of its generation and obviously, its soundtrack is powerful, really powerful. The soundtrack combines hip hop, rock, funk, and many other genres. With artists like Rick James, Heart, Public Enemy, Rage Against the Machine, Faith No More, AFI, and many others more, this is like the perfect mixture of music genres.
Super Mario Bros – Koji Kondo
Koji Kondo is back and this time with one of the most phenomenal and well known "less is more" melodies of all time. Due to the very limited amount of audio memory allowed in NES cartridge, it is obvious that this soundtrack doesn't have the same quality as the other ones, but despite that he managed to produce one of the most famous video game soundtracks ever created.
Silent Hill 2 – Akira Yamaoka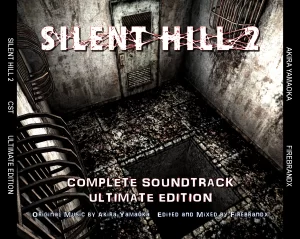 Even when Silent Hill failed to deliver and live up to the hype, Akira Yamaoka's work on this horror franchise is legendary. It was extremely hard to choose a single Silent Hill game for this list, but in this case, we decided to go with the best of the bunch. Yamaoka for this Silent Hill decided to create something between Trent Reznor, Nine Inch Nails' vocalist, and composer Angelo Badalamenti. The result was something unique and phenomenal.
The Last of Us – Gustavo Santaolalla
The Last of Us, just like GTA San Andreas, is considered the best video game of its respective generation. Everything about the game is perfect and the haunting soundtrack created by Gustavo Santaolalla is as amazing as the game. It has haunting passages, emotional potency, devastating cello solos, and heart-pounding drums. Santaolalla's work has been lauded as one of the best soundtracks ever created.
Ico – Michiru Oshima
Guillermo del Toro once considered both Ico and Shadow of the Colossus as two masterpieces and major directorial influences, and this game is often cited as the best example of "video games as art". You know that a game so acclaimed like this should automatically have a beautiful soundtrack and yes, it does. Michiru Oshima's work is critical here and demonstrates that music can make a game like Ico more beautiful.
The Legend of Zelda: Breath of the Wild – Hajime Wakai, Yasuaki Iwata, and Manaka Kataoka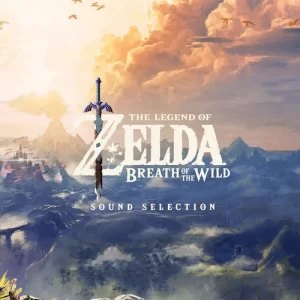 Breath of the Wild redefined what an open-world video game should be, and while remaining true to its roots, the producers decided to explore new boundaries with both the game itself and the soundtrack. The soundtrack embraces themes of minimalism and ambience which reflects to the brand-new world that appears in the video game.
Without a doubt, one of the best background music ever made.
Final Fantasy VI – Nobuo Uematsu
If picking just one Silent Hill video game was hard imagine picking just one Final Fantasy game. While my favorite FF of all time is Final Fantasy X, there is no discussion when we decided to go with FF VI for the best soundtrack ever in the series. Nobuo Uematsu clearly wanted to create something unique, something that would last a thousand years and he did it.
A god-tier work created by a god.