RuneScape is one of the oldest and most well-respected free-to-play MMORPGs on the market. If you went to school in the early 2000s, then the chances are good that you met someone who played this game. Perhaps you even played it yourself!
Still, the RuneScape of the modern day looks very different to the one that was released all those years ago. Modern RuneScape has lots of extra visual flair and user interface improvements, although if you want an idea of what the classic experience was like, you can check out Old School RuneScape, which aims to recreate the RuneScape of yesteryear. If, on the other hand, you're looking for a totally fresh MMORPG experience, here are 12 games similar to RuneScape.
You knew it was coming. It's impossible to compile any kind of list of MMORPGs without making reference to World of Warcraft, which remains one of the most popular games of its genre in the world. Recent expansion Dragonflight has proven pretty popular among WoW fans, especially after a rash of more questionable addons, so now's the perfect time to delve into Blizzard's MMO and see what all the fuss is about.
The original EverQuest codified much of what we now take for granted about the MMORPG genre, and so it shouldn't come as a surprise that EverQuest II is basically a more polished and more approachable version of the first game. If you're looking for an experience similar to World of Warcraft, but without quite so much hand-holding, then this is definitely where you should apply.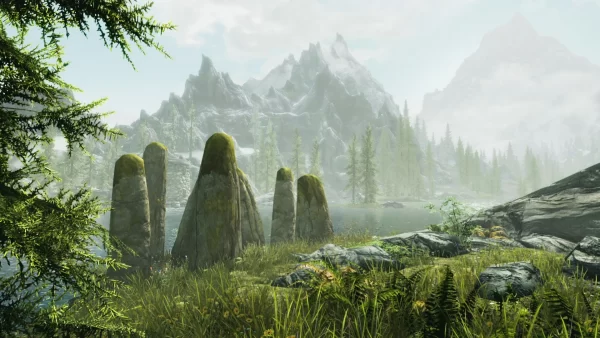 If you're familiar with The Elder Scrolls, you'll know that the emphasis in that series is on exploration and freedom, and that's a mission statement that this online instalment continues with aplomb. The game world is absolutely massive, and several lands from the main series are represented here as well, including Skyrim, so you can get that all-important hit of nostalgia as you explore.
If you're attracted to RuneScape because of its old-school feeling, then you'll probably feel an affinity for Tibia. They don't get much more old-school than this; Tibia is a hardcore PvP-focused MMO in which all bets are off and any player can pretty much murder you at any time. The graphics are unashamedly retro, but Tibia is still a deep and compelling gameplay experience even today.
Legends of Aria's developers openly state that the game was inspired by old-school go-anywhere sandbox MMOs, including Ultima Online. It's got a skill-based levelling system, and it also supports player-run servers, so whether you like to engage in PvP battling, roleplay, or any other kind of niche area of MMORPG play, you'll find lots to like in Legends of Aria.
Speaking of Ultima Online, the classic MMORPG is, remarkably enough, still around today, and you can check it out entirely for free. It's largely still the same idiosyncratic MMO adventure, although naturally, things do feel different than they did back when the game first launched. If what you're after is a truly old-school MMORPG experience, then it's hard to beat the classics, right?
Few settings evoke the feeling of high fantasy and adventure quite like Dungeons & Dragons' Forgotten Realms, and that's where Neverwinter takes place. Like Dungeons & Dragons Online, Neverwinter is an MMO set in the D&D universe, which means that many of that universe's most famous creatures, locations, and characters (yes, including Drizzt) make an appearance.
An MMORPG set in the Star Wars universe had already been tried with Star Wars: Galaxies, which failed despite some interesting design decisions. Following that, it fell to BioWare to create something a little more mainstream that could potentially challenge World of Warcraft's crown. Of course, The Old Republic couldn't quite manage that, but it's a very solid MMORPG in its own right.
Of the two MMO experiments launched within the span of six months by Amazon Games (in the West, at least), Lost Ark is clearly the superior game. It's a Diablo-style hack-and-slash looter with a massive skill tree, several classes to choose from, and a huge world to explore, so if you want something that feels as epic and expansive in scope as RuneScape, here's your game.
AdventureQuest Worlds evokes the same sense of browser-based retro nostalgia as classic RuneScape did, and this holdover from 2000s retro MMO gaming is still going strong today. While the fantasy world it presents isn't quite as deep or complex as that of World of Warcraft, the fact that you can play this game entirely within your browser earns it enough points to be worth at least a look.
Rift was far from the first game to emerge and subsequently be described as a World of Warcraft-killer, but the game is arguably one of the few MMORPGs that actually looked like it might have managed to steal WoW's player base at one stage. Of course, that never materialised, but Rift's deeper class system and well-realised world make it worth your time, especially now that it's free to play.
Another game that brilliantly evokes the retro era of MMO gaming, Albion Online boasts a player-driven economy, a big sandbox world to explore, and an emphasis on PvP that means you're never quite as safe as you might feel. The visuals feel pleasingly nostalgic, too, giving you that same rush of simple joy that RuneScape evokes during its best moments.