Would you like to maximise your chances at Blackjack? Whether you play online or offline, if the idea of reducing the risk of losing, and increasing your chances of winning appeals to you, here are a few useful tips.
Because you get to make several decisions while playing a hand of blackjack, it allows for an element of skill to be developed. It's not just purely and simply riding on the turn of a card; you get choices throughout the game. We are going to help you to develop a basic strategy that will help you to get a better return out of playing. Remember that the dealer doesn't get to make any choices. It's all down to you, and that is where developing a simple, solid, basic strategy can make all the difference.
In conventional blackjack, played offline, certain strategies, such as card counting, are illegal. But if your "bag" is online blackjack, card counting doesn't apply anyway.
What the basic blackjack strategy can do for you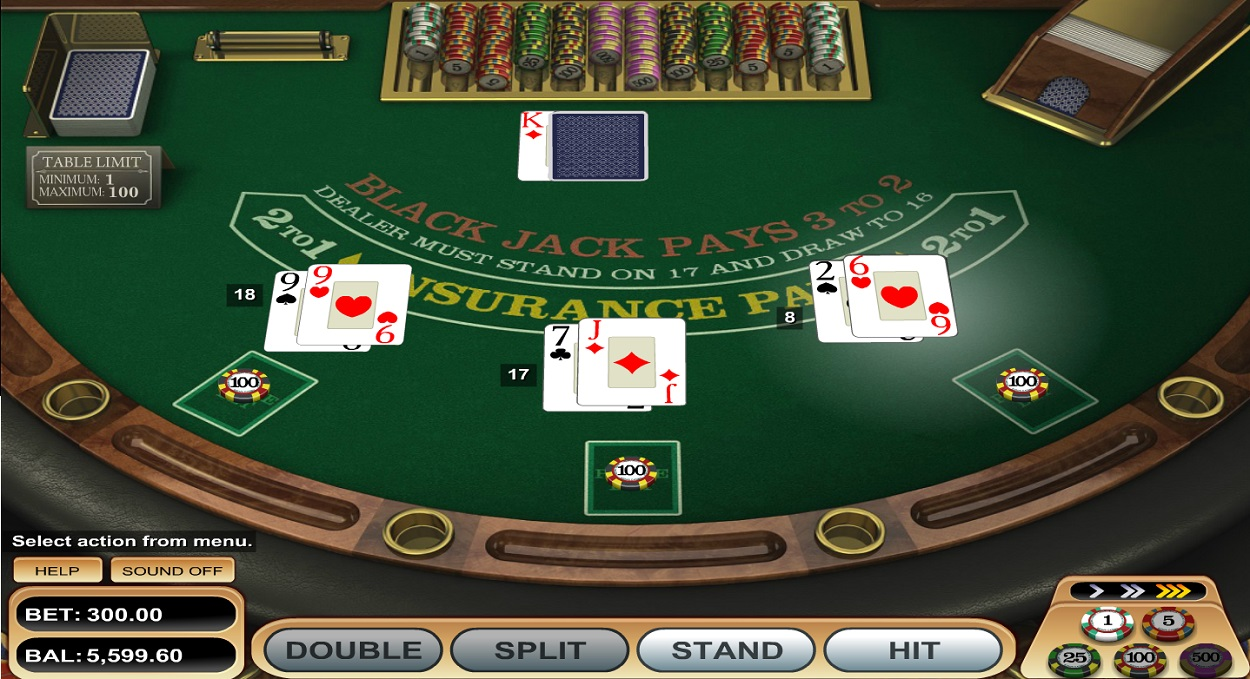 The basic strategy for playing blackjack that we are about to discuss, has been carefully constructed to give you the most appropriate play in any given situation, dependent on the cards you've been dealt, and the dealers first draw. The strategy we are about to outline will:
Increase your chances of winning
Maximise the amount you win (through doubling down)
Minimise the chances of going bust
Minimise any losses (through folding or deciding against doubling)
The fact of the matter is that in blackjack the dealer will always have an edge. What this basic strategy will do however, is to reduce the size of that edge.
Where to find the basic blackjack strategy chart
We won't go into the calculations of our basic strategy. That's simply number crunching. We will simply give you this link to the basic blackjack strategy chart, and give you a brief overview of the major decisions.
Initially, when playing blackjack online, you may want to print the chart off and have a copy handy as you play. The more times you play, the less you'll find you need it, until in the end, you can fly completely solo.
How to get the most out of the strategy chart
When you take a look at the basic strategy chart, you will be able to notice the patterns of when to hit and when to stick. You should, for example, hit (sometimes doubling down) if the score in your hand is under 11. As far as standing is concerned, you should do so on a score of 17 or more, unless it is what is known as a "soft hand." A soft hand is one where you hold an ace valued at 11 points. If you then draw a card with a value of 10, the ace reverts to a 1 and means that you do not bust.
In terms of memorising the basic strategy, the best thing to do is to concentrate on the hands on the borderline. If, by way of an example, the dealer draws a 7, the recommended course of action changes considerably if he/she draws a 6.
Practice makes perfect
As they say, practice makes perfect. This is all about statistics, so if you lose out a couple of times, don't just give-up and revert to your normal game. Go to your favourite online casino and persevere with the strategy for playing blackjack as outlined above.
Get more mileage – gamble responsibly – and enjoy
At the end of the day, you should understand that, with the best will in the world, there is no out-an-out strategy to beat the dealer. But if you stick to the strategy 100% of the time, the theoretical RTP (return to the player) calculates out at around 99.63%.
However, in the cold light of day, sticking to the strategy to the letter will never give you more than a 100% RTP. What we can promise you though, is that you'll get a lot more mileage from your sessions, but don't forget to gamble responsibly – and above all else – enjoy!